Do You Want to Register a Company?
.
Do You It Is an Offense to Run a Business without  Registering a Company?
.
Where to Register or Get Information about a business?
.
The Companies Commission of Malaysia(CCM) also know as  Suruhanjaya Syarikat Malaysia(SSM) is the statutory body which regulates companies and businesses.
CCM is the result of a merger between the Registrar of Companies (ROC) and the Registrar of Businesses (ROB) on 16 April 2002.
The main activity of CCM is to serve as an agency to incorporate companies and register businesses as well as to provide company and business information to the public.

As the leading authority for the improvement of corporate governance, CCM fulfils its function to ensure compliance with business registration and corporate legislation through comprehensive enforcement and monitoring activities to sustain positive developments in the corporate and business sectors of the Nation.
CCM is responsible for the administration and enforcement of the following legislation:
Companies Act 1965 (Act 125);
Registration of Businesses Act 1956 (Act 197);
Trust Companies Act 1949 (Act 100);
Kootu Funds (Prohibition) Act 1971 (Act 28);
any subsidiary legislation made under the Acts specified above such as:

Companies Regulations 1966; and
Registration of Businesses Rules 1957.

.
Suruhanjaya Syarikat Malaysia(SSM) Opening Hours | Companies Commission of Malaysia(CC)
.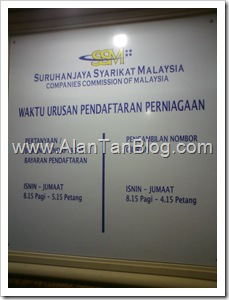 (For Johor, Melaka, Negeri Sembilan, Pahang, Perak, Perlis, Pulau Pinang, Selangor and Wilayah Persekutuan Kuala Lumpur)
Enquiries, Taking Registration Forms, Payment, Registration of Companies:
Monday to Friday Office Hours : 8:15am – 5:15pm
Taking A Queue Number:
Monday to Friday Office Hours : 8:15am – 4:15pm
***SSM Office Closed on Saturday, Sunday and Public Holiday.
The SSM office to register a Small Enterprises, have shifted from second floor at The Mall (opposite PWTC in Kuala Lumpur) to 16th Floor.
There is no sign board or Notice about the office relocation at second floor. 
.
SSM moving to KL Sentral
.
KUALA LUMPUR: The Companies Commission of Malaysia (SSM) headquarters currently housed at Putra Place, The Mall here, will shift to its new premises in KL Sentral in stages, starting today.
SSM consultant and head of public affairs R. Thrichelvam said in a statement the first phase would start from today to Jan 17; the second phase from Feb 2 to 14 while the final phase would be carried out from Feb 27 to March 14.
The final phase involves departments like the Registrar of Business and Registrar of Companies (ROC) but the registration counters for the ROC will remain at Putra Place until March.
Saturday January 9, 2010
fr:thestar.com.my/news/story.asp?file=/2010/1/9/nation/5438229&sec=nation