Instead of just making friends on Facebook or watching videos on YouTube, wouldn't it be better to spend those precious times generating income through online for yourself, your loved ones and your family?
Good News!
My second book on Blogging was finally published and is called  "Make Money Online By Blogging". It's expected to hit the book stores on July/August 2012 however it's available for online sales by clicking HERE.  (Update: Available for sales at all MPH Bookstores now + Kinokuniya Book Stores (Malaysia) Sdn, Bhd, Lot 406-408 & 429-430 Level 4, Suria KLCC Kuala Lumpur City Centre, 50088 Kuala Lumpur +  1Malaysia Bookstore (Kedai Buku 1Malaysia) + Times bookstores. at the following outlets: Bangsar Main,Pavilion,Sri Hartamas,Warisan Square,Sunway Giza,1 Borneo,Ss2 Petaling Jaya & Citta Mall) + The Borders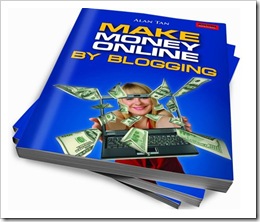 This book is specially written to guide  aspiring blogger. It contain nuggets of information and answer to all  questions that people will ask when starting a blog and make money online.
It also contain a lot of tips and tricks on how to select a good niche to blog about.
Writing a blog is so simple and the best part is, you can do it in just a couple of hours per week with only minimal investment required. You can blog about anything you like – from your favourite past time, work experience, to what you are doing with your children.
Written in a simple language and combined with a lot of diagrams, this book provides step-by-step instruction in easy to understand lessons that you can read then put into practice immediately.
It is designed to increase your success rates, even if you have ZERO technical knowledge or never earned a single cent online before.
*** It Also Contains Some Exclusive Interview With Top Bloggers(who have earned million of $$$ from blogging alone).
Let's Discover and Learn Their Secret!
Find out more at Blogging Sutra
P/S: This would the FIRST And Complete book about WordPress blogging(English) in Malaysia!
The things that you will learn:
How to get a domain name and reliable web hosting.
Build your first customized WordPress blog yourself by following step by step guide.
Complete guide to install WordPress on your web hosting.
Identify tools and settings in WordPress.
How to create a post and page.
How to find and install themes and plugins.
How to attract traffic to your site.
How to make money from your blog.
How to attract visitors and hold their interest.
How to earn an affiliate commission when your visitors shop at the most popular websites.
How to promote your blog and get listed on top blog search engines.
In short, you will learn the secret of making money on the Internet in the right way via blogging.
*** This book is Specially tailored for Beginners who want an Introduction on WordPress and Blogging.
Please download a copy of the FREE Chapter by giving your name and e-mail address at Blogging Sutra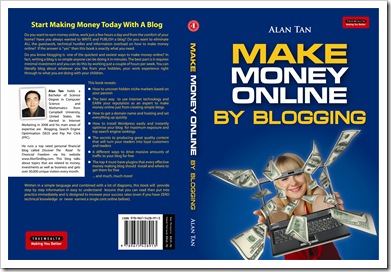 Book Info:
Author: Alan Tan
ISBN: 978-967-5428-91-3
1. Internet marketing.
2. Business–Computer network resources.
3. Electronic commerce. I. Title
650.1
Total Page(s): 248
Publisher: True Wealth Publishing
Published Date: August  2012
Weight: 340g
Dimension: 210mm x 148mm
P/S: I can proudly say that this would the first book about WordPress blogging(English) in Malaysia…