Good news for those who wish to register or renew their Sole Proprietorship and Partnership business.
Effective from 1 June 2012 until 31 Disember 2012, all Sole Proprietorship and Partnership business will enjoy a special discount when registering or renewing their  business.
It cost only RM50 for 5 years period. Originally, it'll cost RM150 or RM300  when registering or renewing their  business for 5 years.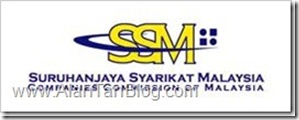 Do takes this opportunity to register or renew business for RM50(5 years).
It's an offence under the ROBA 1956 for a person to run a business without registering a business. If found guilty, he or she will be fined not exceeding RM50,000 or imprisonment for a term not exceeding two (2) years or both.
What Is a Business?
Business includes every form of trade, commerce, craftsmanship, calling,
profession or other activity carried on for the purposes of gain, but does not include any office or employment or any charitable undertaking or any
occupation specified in the schedule under the provisions of the Business
Registration Act 1956 (ROBA 1956).
Business that may be registered under
the ROBA 1956 is a business operating in West Malaysia which includes
Peninsular Malaysia and the Federal Territory.
The are 2 types of business
1) Sole Proprietorship – a business wholly owned by a single owner
2) Partnership – a business owned by at least two (2) persons and not
more than twenty (20) partners.
Registration Fee
1) Sole proprietorship using personal name as stated in the identity card
– RM30.00
2) Sole proprietorship or partnership using trade name – RM60.00
3) Registration of branches – RM5.00 for each branch
4) Business Information Print-out – RM10.00
.
SSM e-Lodgement Services
.
.
What Is Sole proprietorship using personal name?
The business name using personal name as stated in the identity card is not required to apply for business name.
For example: Ali bin Hassan, Lim Ah Beng or, Sammy a/l
Vellu
What Is  Sole proprietorship or partnership using trade name?
Trade Name is the name of the proposed business and must obtain
prior approval from the Registrar of Business.
Example: Kedai Runcit Mega, Kedai Buku Maju, Taste Good Catering or, AT Design Enterprise.
.
Perniagaan Anda Bermula Di SSM
.
.
PEMBERITAHUAN
Pelanggan yang dihormati,
Suruhanjaya Syarikat Malaysia (SSM) mengumumkan pelaksanaan pakej insentif bagi pengurangan fi pendaftaran baru dan pembaharuan pendaftaran perniagaan dan diskaun kepada kompaun yang belum dibayar atau yang tertunggak dan kompaun semasa yang dikeluarkan di bawah APP 1956 adalah seperti berikut:
(i)    Bayaran fi pendaftaran dan pembaharuan tahunan pendaftaran untuk pemilik tunggal dan perkongsian dikenakan bayaran RM50 untuk tempoh pendaftaran selama 5 tahun secara sekali gus (berbanding dengan jumlah fi RM150 atau RM300  yang dikenakan sekarang); dan
(ii)   bayaran kompaun semua bagi pendaftaran lewat dan pembaharuan pendaftaran lewat dikurangkan sebanyak 50%.
(iii)  pelaksanaan pakej ini akan berkuatkuasa bagi tempoh
1 Jun 2012 sehingga 31 Disember 2012.
Permohonan bagi pakej insentif boleh dilakukan di :
(i)    Semua kaunter SSM kecuali di Sabah dan Sarawak – aktiviti pendaftaran perniagaan, pembaharuan perakuan dan pembayaran diskaun kompaun.
(ii)   Perkhidmatan e-Lodgement SSM – aktiviti  pendaftaran perniagaan dan pembaharuan perakuan.
(iii)  Semua cawangan Bank Simpanan Nasional – aktiviti pembaharuan perakuan.
SURUHANJAYA SYARIKAT MALAYSIA
TARIKH :  1 JUN 2012
fr:ssm.com.my/en/node/19755
,
Program SSM Bersama Rakyat 2012 di Bera Pahang
.