This morning was the start of RSH Sports Warehouse Sales which will be held until  this Sunday,  4th Oct 2015, from 10am to 7pm.
Even you reached there early(around 11:30am), it were pack with many people looking for cheap bargain.
Many shoppers has been queueing up  even before 10am.
The discount offer rate can go as high as 80% for all the popular Brands!
All the items offer are sports related products such as sports shoes, apparels, equipment etc.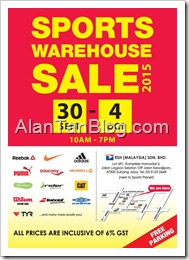 Some of the popular Brands include:
-Reebok
– Nike
-Adidas
-Puma
-Saucony
-Merrell
-Ipanema
-Rider
– CAT
-Wilson
-Babolat
-TYR
-Umbro
and many more!
Since it's a Warehouse Sales, only limited cheap items are available. So always go there early during the start of the sales. There's a saying "Early Bird Catch the Worms"
I heard that RSH will top up the sales items everyday. So don't make only one visit if possible.
Most of the items offer are NOT the latest model.
My friend told me that the shoe glue  will comes out easily after a few years even it was new. So do beware of this risk. My suggestion is buy it and wear it now(don't keep for future usage as the glue may not last)
I bought a pair of walking shoe, Reebok's sock and cap and cost me less than RM100!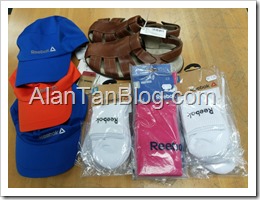 Do  park your car inside the building as I saw the traffic police was issuing summon  on the cars that parked illegally outside.
You can find  Good and Cheap stuff in this RSH Sports Warehouse Sales. It has a lot of good bargain for old stock.
Just like any other Warehouse Sales, there are  limited items at limited quantity  only. So don't wait until last minutes…
Address:
RSH Sports Warehouse Sales
Lot 691, Kompleks Hamodal 5, Jalan Lagoon Selatan, Off Jalan Kewajipan, Subang Jaya, Selangor (Next to Sports Planet)