Top Glove Corporation Bhd was listed in Bursa Saham Kuala Lumpur on 27 March 2001. It has a comprehensive product range with 13 major types of rubber gloves.
Since then it had grown by leaps and bounds to become the world's largest rubber glove manufacturer!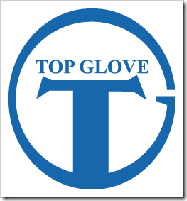 Top Glove Corporation FY2013
Quarterly Results Date:
1st Quarter Results 13 December 2012
2nd Quarter Results 3rd week of March 2013
3rd Quarter Results 3rd week of June 2013
4th Quarter Results 2nd week of October 2013
Below is the Top Glove Corporation reply to Minority Shareholder Watchdog Group (MSWG) 2013
.
Top Glove Corporate Video
.
.
Top Glove to up production to match demand
.