I am sure in these past few day you got problem accessing your favorite web sites due to Malware attack. It is reported more than 500 websites that host Innity Ad Network were effected. These web site are mainly in Malaysia.
Even though, Innity claimed that the issued almost resolve but I still got problem accessing site like Business Times, Chedet, The Malaysian Insider, Wang Cyber, my Sin Chew and a lot more.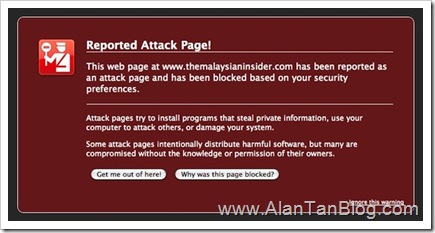 Please be rest assure the Innity would resolve this as soon as possible.
What is malware?
If your site has been infected, it is generally because some vulnerability has allowed a hacker to take control of your site. The hacker may change the content of the site (for example, to add spam), or add additional pages to the site, usually with the intent of phishing (tricking users into parting with personal and credit card information). Alternatively, they may inject malicious code (malware)—for example, scripts or iFrames that pull content from another website that tries to attack any computer that views the page.
The term "malware" covers all sorts of malicious software designed to harm a computer or network. Kinds of malware include (but are not limited to) viruses, worms, spyware, and Trojan horses. Once a site or computer has been compromised, it can be used to host malicious content such as phishing sites (sites designed to trick users into parting with personal and credit card information). Some hackers may even take administrative control over a hacked site.
This the 1st email that were sent out by Innity to all its publishers. I am one of their publisher.
Further to our earlier email, we have managed to rectify the issue of our ad server displaying a malware warning issue on your site.  In summary, a portion of our domain; innity.net, which operates as a content delivery network focused on delivering static banner files to our end user, was affected in Indonesia and this led to Google classifying our domain as being infected by malware. While we have quickly resolved the issue and are now back to normal operation, Google's aggressive malware prevention policy may result in users continuing to see warnings until Google completes its re-review process.  As a result, the entire innity.net domain has been blacklisted. Websites that are embedded with the Innity tag have been affected by this problem and this has caused a warning message to be displayed when a user visits the websites when they are using either Google Chrome or Firefox.
We have excluded the affected delivery network from our advertising network until the service provider rectifies the issue from their side. We have also initiated the Google review process, and requested Google to recheck the site and declassify it as malware. The process could take up to 48 hours as the situation is complicated due to the fact that there is no detailed report as to why Google has classified us as a malware distributor.
We have also taken short-term steps to lock down our domain in Indonesia completely while we determine the true technical root cause of the initial malicious files.
We take the integrity of our infrastructure extremely seriously, and will post a detailed follow-up as the investigation completes.  We sincerely apologize for any inconvenience caused to you and your visitors, and you have our assurance that part of the investigation also includes reviewing our early-detection mechanism for this type of glitch specifically.
You can temporarily remove the Innity tag from your site, and sign up for Google Webmaster Tools for a review.
This the 2nd email that were sent out by Innity to all its publishers.
In light of our previous announcement, Google has now completed a review of our domain and certified that innity.net/ has now been re-activated and has passed all checks.
We at Innity though are still looking to enforce additional layers of checks and confirmations before reinstating all advertising scripts so please bare with us and we will notify you in the next 24 hours to put up our ad scripts again.
Furthermore, if your site is still currently blacklisted and if you are having difficulty getting it reinstated, please drop us an email with your site details to report-malware@innity.com with a copy to marketing@innity.com and we will help complete this process for you as quickly as we can.
Once again we would like to extend our sincere apology to all parties involved for the inconvenience caused and would especially like to thank you for your understanding and support!