Do You Use Touch 'n Go Card?
.
How Often Do You Reload Your Card?
.
Have You Hold The Same Touch 'n Go Card Over Eight Years?
.
Do you also aware that  your Touch 'n Go Card only valid for maximum up to 10 year lifespan only!
Therefore, for those who has bought the Touch 'n Go Card between 1997 and August 2000, were expired. It will fail to function and you may experience difficulties when passing through a toll plaza if no renewal is done this year.
It is estimated over 283,000 Touch 'n Go cardholders will be expired this year.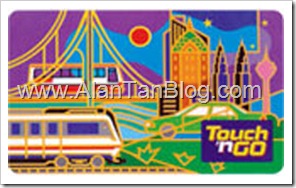 You need to renew the Touch 'n Go card by purchasing a new card which cost RM10 and it will last for 10 years as well. Therefore, it cost RM1 per year in order to use this facilities.
Renewal can be done at  any Touch 'n Go service hub or at the customer service centers along the highways.
You may check your also check when your Touch 'n Go card expiry date at Touch 'n Go web site or call Touch 'n Go Careline Centre at 03-7628 5115.
By doing a simple Math, Touch 'n Go can easily collected up to RM2.83 Million in profit at the expenses of the cardholders for the renewal!
Why must cardholders force to paid a fee of RM10 to purchase a new Touch 'n Go card to replace the one they are currently holding?
Touch 'n Go operator already enjoy this monopoly business  and benefited  from interest free deposit collected from million motorist previously and will continue to benefit.
Let assume each of the 283,000 Touch 'n Go contain average RM10 balance which is very conservation figure and never take into all the current Touch 'n Go card in the circulation. Every month Touch 'n Go operator will collect over RM4,000 interest free in term of interest!
Plus if you reload your Touch 'n Go card at Petronas petrol station and banks, a service charge RM.50 is incur. Reload at LRT and Plus Booth is free.
The reload and renewal fee for Touch 'n Go card  should free as the company already benefit from the deposit collected!