Some people think gambling is the Ultimate Guide to Financial Freedom.
By having "much" money, all their problems will be "gone".
Just look at the flyer advertisement below: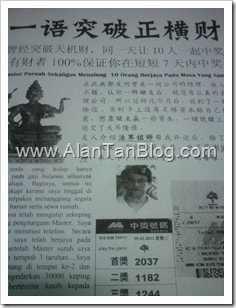 What happen is you will have to contact the advertiser for a 4-D number that have "high chance" of winning . This service is not a charity service so some fee will be charge.
Have you ever wonder if the advertiser can comes out with very "high chance" winning number, why don't  they just keep it to themselves?
Something to think about!
The key here is the ability to manage money correctly. Most of your time and resources need to be spend on increasing Financial Intelligence and Not looking for quick gain via gambling.
How many time you hear stories of  lottery winner who won million of dollar payout become poor at the end?
Read more Winning Lottery Is Not Always the Ticket to Financial Freedom, Dreams and Success
I feel pity for those who become the victim some con case which was reported in the newspaper very often.