The government's postpone the Goods and Services Act (GST) implementation
.
MIC chief Datuk Seri S. Samy Vellu's long-awaited decision to retire in January.
.
MCA's general assembly earlier this month show all the MCA's leaders remain united.
.
The 2011 Budget that is giving an economic feel-good factor
.
The much criticised  ,RM5 billion Proposed 100 Storey Warisan Merdeka Mega Tower, to get activity up to provide jobs and incomes for people.
.
Umno president Datuk Seri Najib Tun Razak has given the clearest indication yet that the 13th general election is imminent when he told the UMNO party faithful to get ready for it and to get into battle mode.
.
Najib: adopt "People First" concept
.
Umno President Datuk Seri Najib Tun Razak wants the party to adopt the "People First" concept in all party programmes. He says it is to be line with the party's transformation principles to place the interest of the people first in all its stuggles. He was speaking at the closing of the Umno General Assembly 2010 on Saturday.
.
.
What does all those signal trying to tell you?
Yes…
The 13th general election is expected to be held very soon!
So do expect to see an interest stock market movement.
Probably, The FTSE Bursa Malaysia KL Composite Index To Hit Above 2,500 Points Very Soon!
The Chart of FTSE Bursa Malaysia KL Composite Index  On Uptrend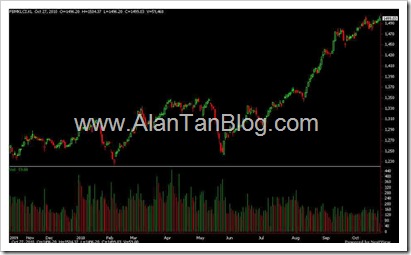 Some don't keep cash but keep stocks
Take an Overdraft, sell your house or any properties, and etc to raise cash…
Remember, Please don't sell your wife or children 🙂
Please don't miss the boat!