I am sure everyone is so eager to wait for Budget presented every year.
Last friday, our Prime Minister, Datuk Seri Najib Razak, disclosed the plans for the Warisan Merdeka project, a new Kuala Lumpur landmark, in the Budget 2011.
This mega tower building, named 'Warisan Merdeka' or 'Heritage of Independence', would be the tallest in Malaysia, dwarfing the iconic Petronas Twin Towers, which were the world's tallest buildings at 88 storeys when completed in 1998.
Construction of the 100-storey tower skyscraper, which is part of the RM5bil mega project within the enclave of Merdeka Stadium and Stadium Negara in Kuala Lumpur, would begin sometime next year and is expected to be completed in 2015.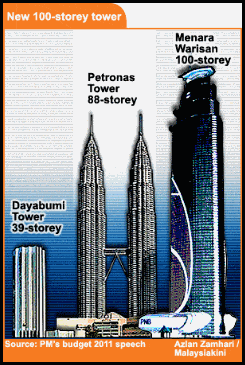 The 19-acre development area of the mega project — which includes a condominium and a shopping mall — is sited on the car park and land adjacent to Stadium Negara and Stadium Merdeka.
.
PM: Warisan Merdeka not a waste
.
.
Najib has said such projects exemplify the spirit of "Malaysia Boleh" or "Malaysia Can", a national campaign conceived by former premier Mahathir Mohamad, an advocate of mega projects.
It has come under a very heavy criticism from the opposition as well as the general public.
This is clearly shown in a Social networking site Facebook  page called  1M Malaysians Reject 100-storey Mega Tower. It have more than 45 million people who say NO this wasteful white elephant project.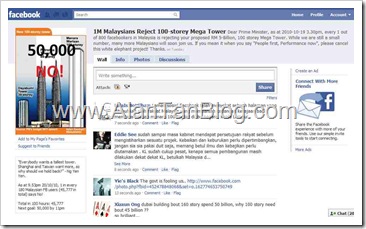 I think the Government need to address the following issues:
1) What is the main purpose to build this Mega Tower when there was an existing property glut?
2) Why do we need another landmark near the Petronas Twin Tower?
3) How many actual landmarks do we need?
4) Do really need for yet another super skyscraper, despite already having the iconic Petronas Twin Towers?
5) What is the  demand and supply of office space in the capital city now?
6) How does the Permodalan Nasional Berhad (PNB) going to pay for this mega project?
7)  Has a proper feasibility studies done?
8) How does those CONTRACTS help our economy?
9) How many local retailers can afford to rent a retail space in the complex?
I hope the government can spend wisely and remember  not to spend recklessly even have money!
Malaysia needs better education, better health care, better public transportation, safer neighborhoods, cleaner water, but NOT another taller building
A few months ago, some Minister said that the country will be going bankrupt if subsidies are not withdrawn…. so this is why the subsidies were withdrawn… to build another "Mega White Elephant " project?
What the city needs badly is a first-class transport system NOT a warisan tower!
.
MPs: Mega-tower won't improve quality of life
.
Five DAP MPs from the Fedral Territories are strongly opposed to the government proposal to build a RM5 billion 100-storey commercial building in the heart of the city.
They said that the building will not improve Kuala Lumpur's international standing but will exacerbate the traffic congestion in the area.
.
,
Will mega-tower affect ASN dividends?
.
An opposition parliamentarian has raised doubts on the ability of Permodalan Nasional Berhad (PNB) to build the 100-storey Warisan Merdeka skyscraper, hinting at the possibility of lower dividends from its unit trust schemes.
.
.

.