I just got my first affiliate check from Amazon Germany.
This is my first time promoting physical products on Amazon and do learn a lot of new things.
The check amount is not a lot but gave me a good exposure on how Amazon's affiliate works.
I got 61.81 Euro (EUR) for my first check. The Euro currency conversion is much more higher than USD. Should focus more on Euro market?
Amazon called their affiliate program as Associates Program.
You need to sign up for an account using a blog. Please note that you need to get approval for each country that you wish to promote. This means Amazon Germany is different account with Amazon USA.
Once your account approved, you can start promote using your affiliate link.
The commission(Advertising Fee Rates) is very low compared to selling e-book in ClickBank.
The Advertising Fee Rates range from 4% up to max 8.5% and depend on quantity of item ordered. The increase of your advertising fee rate based on the number of products shipped/downloaded during a given month.
Every month you'll start with earning 4% rate even last month you've achieved 8.5% rate.
Some of the products that You Can sell in Amazon:
•Apparel & Accessories
•Automotive
•Baby
•Beauty
•Books
•Camera & Photo
•Cell Phones & Service (phones only, not plans)
•Computers
•DVD
•Electronics
•Gourmet Food
•Health & Personal Care
•Home & Garden
•Jewelry & Watches
•Kitchen & Housewares
•Magazine & Newspaper Subscriptions
•Music
•Musical Instruments
•Tools & Hardware
•Toys & Games
•Software
•Unbox Video Downloads
•Video
Every time you make a Amazon's sale, the sales figure stat is not display in real time mode as it got about 1 day delay. You'll earned commission once the items is products shipped which will takes about 3-7 days.
Amazon commission are paid out on a monthly basis, approximately 60 days after the end of each month. Payment is withheld until the total amount due is $100 for checks.
Some of the items that I sold: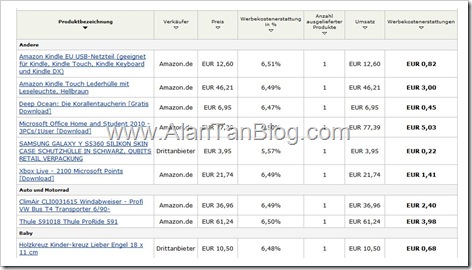 It's possible to earn in Euro $$$ even I don't understand a word about Euro. Euro don't use English. I use Google Chrome as it got auto translate option.
I would like to thank Ivan Ong for his guidance and make all this possible. You are the man!