Prime Minister Datuk Seri Najib Tun Razak and cabinet ministers, will hold an Aidilfitri open house on the first day of Aidilfitri at his official residence in Seri Perdana, Putrajaya.
Do take this opportunity to meet and shake hand with Prime Minister Datuk Seri Najib Tun Razak  and   the Cabinet ministers during this Raya open house which is  to be held from 10.30am to 4pm.
All Malaysians welcome to Prime Minister's Raya open house!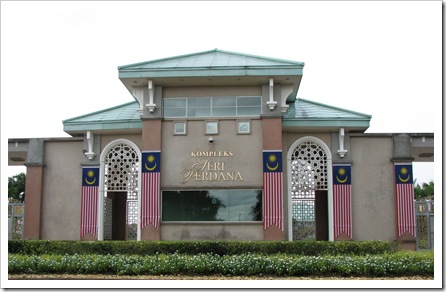 The roads heading to Seri Perdana, Putrajaya will be jammed as expected. Therefore, you may take the Nadi Putra free shuttle service to reached the venue.
About a total of 16 buses will be provided from 10.30am to 6pm in four locations namely Putrajaya Sentral, Park and Ride Presint 1, Putra Mosque and Tuanku Mizan Zainal Abidin Mosque – in 15-minute intervals.
I hope you can plan your visit and avoid the traffic congestion.
Datuk Seri Najib Tun Razak, who is also Pekan member of parliament, will also hold an open house at Taman Tasik Sultan Abu Bakar, Pekan on Aug 26 which is Sunday, beginning at 10am until 2pm.
Aidilfitri  which is expected to fall on August 19
I cordially wishes everyone Selamat Hari Raya and have a wonderful time with your dearest ones on this festive season.
Selamat Hari Raya Aidilfitri everyone!
.
BERNAS | Hari Raya 2012 (The Journey) TV Commercial Director's Cut (English Subs)
.
Two special children build a beautiful relationship based on genuine care and understanding. On the eve of Hari Raya, these orphans, Ahmad and Fizi embark on a journey and encounter many challenges along the way. Through their perseverance and determination, they overcome all odds to fulfill their obligation of unconditional love.
Agency: Affinity Worldwide
Production: Reservoir Production
Film Director: Hafiz Ibrahim
.

.
Strangers
.
Erman, a PETRONAS engineer stationed in Central Asia, struggles to adjust to life away from home, when his path crosses that of a local boy, Jeyhun.
While Erman and Jeyhun start out as strangers, every step brings them closer to realising their true potential, to reimagining their energy and making a difference to those around them. Its a story of one man's journey of self-discovery and exploration towards the meaning of life
While past PETRONAS TVCs have always celebrated stories from within Malaysia, this year, it tells a bigger story — of the role that PETRONAS plays in its countries of operations.
.