I have wrote a physical book specially for those who wanna make money online Without Selling Anything!
If you still making money online using blogging, Google AdSense, Amazon, affiliate marketing (selling other people's products), eBay, Forex Trading etc, there are better way of doing this via CPA Marketing.
In CPA Marketing, you get PAID for Giving any FREE stuffs!
Don't we all like Freebies? 🙂
This is A Complete Guide to Making Money with Cost Per Action(CPA).
Find out  more and Do download the FREE Book Chapter by giving your name and e-mail at CPA Secret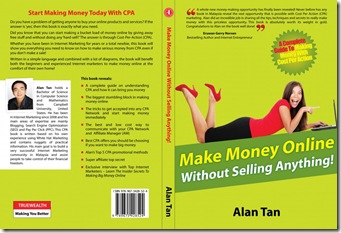 Title: Make Money Online Without Selling Anything!
Description:
A thorough guide book on new online marketing business which will give an extra edge to those who are new to the world of Cost Per Acquisition (CPA). This book contains explanation and sample pictures which will definitely strike attention.
About The Author:
Alan Tan holds a Bachelor of Science in Computer Science and Mathematics from Campbell University, United States.
He started in Internet Marketing around June 2008 and his main areas of expertise are mainly Blogging, Search Engine Optimization (SEO) and Pay Per Click (PPC).
He runs a top rated personal financial blog called Discover The Road To Financial Freedom via his website www.AlanTanBlog.com.
This blog talks about topics that is related to money making, investment as well as business and gets over 30,000 unique visitors every month.
This book reveals:
A complete  guide on understanding CPA and how it can bring you money
The biggest stumbling block in making money online
The tricks to get accepted into any CPA Network and start making money immediately
The best and low cost way to communicate with your CPA Network and Affiliate Manage (AM)
Best CPA offers you should be choosing if you want to make big money
Alan's Top 5 CPA promotional methods
Super affiliate top secret
Exclusive interview with Top Internet Marketer-

Learn the Insider Secrets to Making Big Money Online
In summary,
Author: Alan Tan
ISBN: 978-967-5428-48-7
Total Page(s): 192
Publisher: True Wealth Publishing
Published Date: Feb 2011
Format: Paperback
Weight: 300g
Dimension: 210mm x 148mm
Where to Get This Book
This first ever book on CPA is available in all MPH, Popular and Kinokoniya bookstores in Malaysia and selected other local bookstores.
You can also buy this book directly from my publishers website-True Wealth, at local bookstores and  MPH Online,
My CPA Book at Kinokuniya, Suria KLCC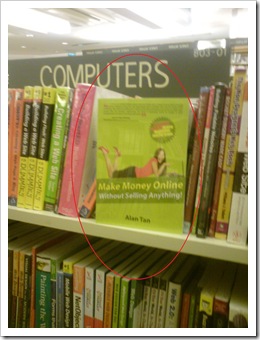 My CPA Book at MPH Bookstore- Mid Valley, KL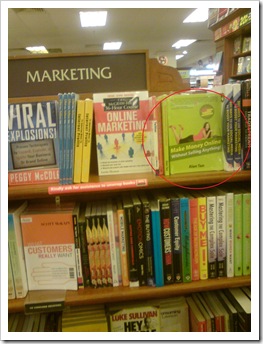 My CPA Book at Popular Bookstore- Sunway Pyramid, PJ