The first reply I get is my name is NOT selected for the Dinner invitation With The Prime Minis­ter Datuk Seri Najib Tun Razak and Online Friends on 20 February 2011.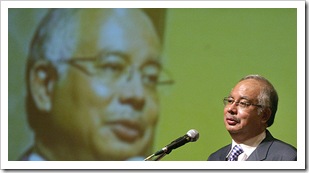 Their reply on 16 February 2011:
Encik Alan,
Salam 1Malaysia!
Anda menerima e-mel ini kerana anda telah mendapat jemputan ke Jamuan Minum Petang 1Malaysia bersama YAB Perdana Menteri pada 5 November lalu. Sepertimana yang anda sedia maklum, tarikh tersebut telah ditunda ke 20 Februari ini.
Untuk makluman anda, oleh kerana YAB Perdana Menteri telah memutuskan untuk meningkatkan tahap interaksi beliau dengan para jemputan, kami telah menghadkan jumlah jemputan yang dikeluarkan kali ini.
Dukacita dimaklumkan, kami tidak dapat menjemput anda kejamuan ini.
Walaubagaimanapun, satu lagi jamuan akan dijadualkan pada suku ke-dua tahun ini.
Untuk itu, anda telah disenaraikan secara automatik sebagai jemputan. Anda akan menerima e-mel jemputan setelah tarikh majlis ditetapkan.
Jika anda ada sebarang pertanyaan, sila hubungi kami melalui email ini.
Terima Kasih
Pentadbir 1Malaysia.com.my
But on the next day- 17 February 2011, I got another reply:
Encik Alan,
Dimaklumkan bahawa anda telah menerima satu emel menyatakan anda tidak dijemput ke Majlis Jamuan Petang Bersama Perdana Menteri pada 20 Februari ini.
Sila abaikan emel tersebut.
Nama anda telah disenaraikan sebagai jemputan yang hadir.
Sila hadirkan diri anda pada tarikh yang telah ditetapkan.
Harap Maklum.
Terima Kasih,
Pentadbir 1Malaysia.com.my
—————————————-
What you want me to say or comment about all these "communication"?
Anyway, it's good that my name was in the invitation list finally!