I just got a Great news and bad news for my   FIRST Book on Cost Per Action(CPA) that's specially written for Malaysian's affiliate in mind and comes with easy reading.!
My CPA book which called Make Money Online Without Selling Anything! was on 40% Discount off Sales at  RM23.94
** Normal price selling at Book Stores is RM39.90 so You save: RM15.96!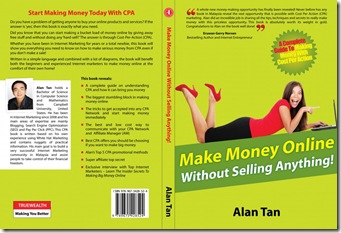 The bad news is this offer only valid for this week and this crazy sales offer will not be repeated!
If you already have my book then gave another copy as a gift to your friends.
Do keep the book purchased receipt for Income Tax deduction purposes.
Grab the CPA Marketing book at RM23.94 by CLICK HERE today!
This's a physical book and not downloadable e-book….
I don't think you can get a great on CPA Marketing for only RM23.94.
*** This offer valid for This Week ONLY!
Money Back Guarantee
My publisher, True Wealth,  give a 14 days guarantee on all their books. In the unlikely event that you are dissatisfied with the books or the content, you can return the books  for a full refund. You must attach the original receipt as proof of payment. You must also bear the postage cost of returning the books to us yourself.
This guarantee applies only to book purchased directly from TrueWealth or from this website and not from purchases made elsewhere including those at the bookstores.
.
Alan Tan- Make Money Online Without Selling Anything-Book Talk at MPH Megastore One Utama -CPA Marketing
.
.
Latest Testimonial:
——————
1) Peerfly account approved! Thanks again- Low Jia Sheng, Kuantan-26/10/11
2) Just got approved by CPA Way. – Low Jia Sheng, Kuantan-13/10/11