If you read the latest, Personal Money magazine(September 2012 edition), there was an article claimed endowment policy is an Alternative Investment!
This personal finance's writer is giving a False and Misleading information.
In fact, Any insurance product should NEVER be classify as an Investment.
Insurance is ONLY for Protection! full stop.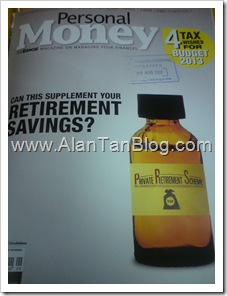 Investing is the act of committing money or capital to an endeavour with the expectation of obtaining an additional income or profit.-Investopedia
Strictly by the above definition, If the person got total permanent disability or death, any available Investment would/should NOT pay!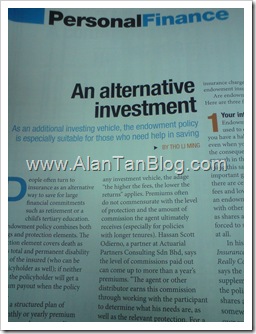 In the article, Tho Li Ming, the writer, gave a comparison about endowment policy vs whole-life insurance.
An endowment policy is a life insurance contract designed to pay a lump sum after a specified term (on its 'maturity') or on death. Typical maturities are ten, fifteen or twenty years up to a certain age limit. –Wikipedia
Most insurance agents like to push this product because they'll get high sales commission. Therefore, make sure you understand your financial and insurance need before buying any endowment policy!
The return you get on endowment policy maybe below 3%, which is below the fixed deposit rate and the official inflation rate!
Please consult your financial planner or insurance agents  for more information.