You are invited to my "Make Money Online By Blogging" Book Talk on 22nd September 2012(Saturday) at the MPH MPH One Utama, Petaling Jaya.
Instead of watching videos on YouTube, or just making friends on Facebook, or reading entertainment and political blog, wouldn't it be better to spend that time GENERATING  Blogging INCOME online for Yourself, Your Family and Your loves ones?
So feel free to join my talk to find out more.
The entrance is free of charge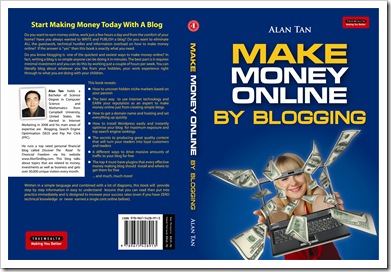 This will be my third book talk at MPH.
Read about my first book talk at Book Talk on Make Money Online Without Selling Anything by Alan Tan at MPH 1 Utama
If you want to know more about me and my Blogging/CPA book, this is your golden opportunity to meet me personally eye to eye.
You may ask me questions, talk to me, get my autographs and even take your photos with me! So turn up with your colleagues, family and friends, and have fun.
And yes, you might even learn a few new ideas and things!
Remember to tell your family, friends and acquaintances about this book talk!
I hope to See you there!
Have a Great Day Ahead!
Meet Alan Tan LIVE at:
Date : 22nd September 2012
Day : Saturday
Time : 2.00 – 4.00 pm
Venue : MPH One Utama, PJ
Book Title : Make Money Online By Blogging
Cost: FREE
Book Info:
Author: Alan Tan
ISBN: 978-967-5428-91-3
1. Internet marketing.
2. Business–Computer network resources.
3. Electronic commerce. I. Title
650.1
Total Page(s): 248
Publisher: True Wealth Publishing
Published Date: Mei 2012
Weight: 340g
Dimension: 210mm x 148mm
P/S: I can proudly say that this would the first book about WordPress blogging(English) ever published in Malaysia!
.
Alan Tan- Make Money Online Without Selling Anything-Book Talk-CPA Marketing
.
Book Talk on "Make Money Online Without Selling Anything!" by Alan Tan at MPH Megastore One Utama – 12 March 2011.
This CPA Book Talk was Featured at The Star Newspaper on 11th March 2011 and 12nd March 2011
.