In such turbulent times, many credit card holders want a higher credit card limit for a lot of reasons.
Credit cards have grown to become the Best Alternative cash for daily consumables, and this trend is very much in line with the National Payment Policy, which is aiming for a Cashless Society.
Most of us now know the benefits of using credit cards as an alternative to cash. Imaging carrying $5,000.00 cash to buy a Personal computer, Furniture, Jewellery etc. On top of that, you get cash rebate too.
Credit cards is NOT for everyone especially those who got NO good financial discipline like not paying credit card outstanding amount in full every month. Maybe debit cards is more suitable for this group of people.
A lot of Banks are aggressively promoting personal loan and credit card by giving automatically higher credit card limit. Just ask yourself how many Telemarketing calls you received per month for promotion on supplementary card, personal loan and balance transfer program. The banks are generally thrilled to give you an increase in credit limit, if they think you will use it wisely and would not go bankrupt.
Look what I got in the mail today! Almost reached Platinum card member credit limit 🙂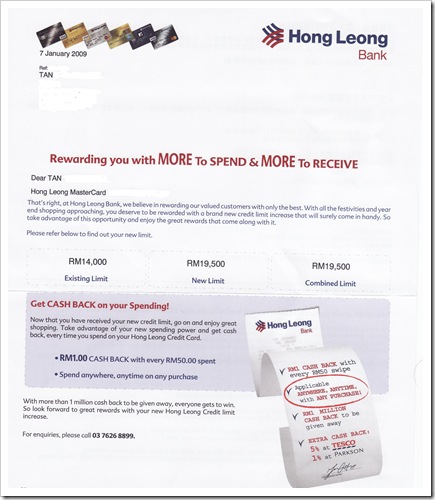 And always remember, a higher credit card limit means greater purchasing power, but it also increases the risk of your having to pay greater interest charges and other processing and late fees if you have difficulty repaying the higher balances.
If you find yourself getting deeper and deeper into debt hole consider lowering your credit card limit. Just ring up the credit card company and ask them to decrease the limit on your credit card. This way you can still have the convenience of a credit card but you will have some safe guards to help keep you away from going deep into debt hole.
Of course, the best way to use a credit card is to pay off the balance at the end of each month in full. With a lower credit limit, it will be easier to pay off the balance. If the maximum you can charge on your card in a given month is $1,000, that will be a lot easier to pay off than $10,000.
By intentionally controlling your credit card limit, you can set yourself up to be Financially Free. Keep in mind that the banks make lot of money when you are in debt, so they are going to try to give you as much credit as possible.
Since they make money when you are in debt, don't consider the credit limit increase!