I would like to take this opportunity to wish all my Chinese blog readers a prosperous Chinese New Year. May this year of Ox bring you lots of  fortune, wisdom and not to mention lot of luck.
This year, 2009, is the Year of the Ox.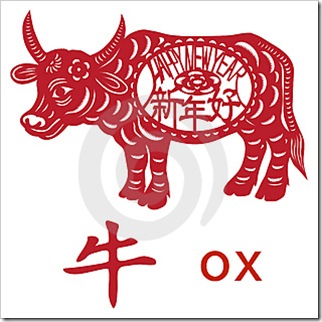 The Pearson Education database shares an old Chinese legend:
"In ancient times, Buddha asked all the animals in the kingdom to meet him on the eve of Chinese New Year. Only Twelve came. Buddha named a year after each one." So the animal-years have continued to rotate on a 12-year basis.
One of the most famous person born during a Year of the Ox, is President Barack Obama.
Those born under the Ox's sign are said to be stable, fearless, obstinate, hard working and well-respected. Oh, and friendly! Good qualities for a new president.
So I wish all the kind-hearted people in the world a happy Chinese New Year.
My Favourite Chinese New Year Song (I LOVE it!!!!!!!!!!!)