Since 17 August 2009, Malaysians have been entertained (or not) by the great works of 15 film-makers who participated in the 15Malaysia short film project.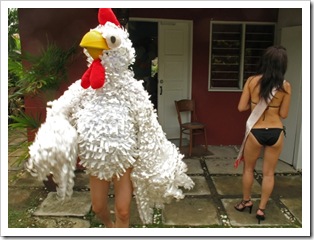 It is not only entertaining and in essence "Malaysian", but this film also highlight the many issues Malaysians deal with almost every day whether we like or not.
15Malaysia is a short films project.

It consists of 15 short films about Malaysia directed by some of the very best young filmmakers in our country. Each film lasts between 3 to 7 minutes.
The repertoire of filmmakers and cast include: Yasmin Ahmad, Ho Yuhang, James Lee, Tan Chui Mui, Amir Muhammad, Datuk Seri Liow Tiong Lai, Amber Chia, Datuk Haji Nik Abdul Aziz Nik Mat, Sharifah Amani, Jason Lo, Khairy Jamaluddin, Harith Iskandar, Datuk Zaid Ibrahim, Daphne Iking, Tian Chua, Sarah Lian, Serena C, Patrick Teoh, Baki Zainal and Ida Nerina, amongst others.
Khairy Jamaluddin, Nik Aziz, Liow Tiong Lai, Tian Chua and Zaid Ibrahim are the politicians who has become actor in this short film.
Some are funny, other serious – all try to deal with aspects of Malaysian life.
It cover socio-political subject matters and include corruption, race relations, inflation, Islamic banking, social apathy, ethical commerce, pedophilia, government health warnings and so on.
Thanks to P1, the WiMAX Internet access provider, for sponsoring 15Malaysia project.
For me, the most memorable and amusing clip is like "Potong Saga" by Ho Yuhang.
It is about a Chinese boy's misguided attempts at opening an Islamic bank account. He thought need to "Potong" first before opening an Islamic Bank Account!
Truly a laugh-out-loud film. 😀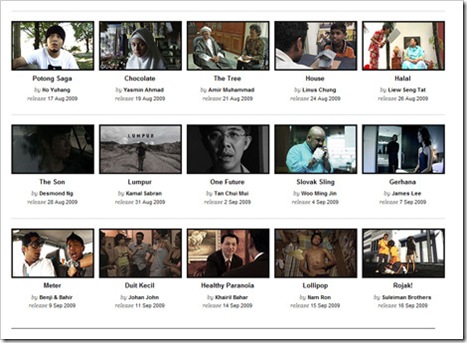 Potong Saga by Ho Yuhang
Synopsis: A laugh-out-loud film about a Chinese boy's misguided attempts at opening an Islamic bank account.
Chocolate by Yasmin Ahmad
Synopsis: A quiet tale that reminds us that, despite the multifaceted contradiction of Malaysia, life goes on – even if not all of it is sweet.
The Tree by Amir Muhammad
Synopsis: Malaysia's most influential spiritual leader Nik Aziz offers commentary on the virtuous and Islamic way to conduct ethical commerce in his inimitable style.
House by Linus Chung
Synopsis:  An Indian boy is asked to build a model of his house at school. A tale on the social economic plight faced by many Malaysians.
Halal by Liew Seng Tat
Synopsis: A very silly slapstick comedy demonstrating the proper Islamic way to slaughter chicken.
The Son by Desmond Ng
Synopsis: A teenage Chinese witness to a racially motivated assault is being driven to the police station. A quiet reminder of the dangers of inter-communal suspicion and conflict.
Lumpur by Kamal Sabran
Synopsis: A modern, poetic and beautifully constructed ode to Malaysia – its common people, places and enduring spirit.
One Future by Tan Chui Mui
Synopsis: An edgy and powerful science fiction story of a society where everything is perfect, except no one is allowed to speak.
Slovak Sling by Woo Ming Jin
Synopsis: A comedic re-enactment of how one politician tries to entice another to switch party allegiance as DVD pirates look on.
Gerhana by James Lee
Synopsis: Two secret lovers rendezvous in a plush hotel room while TV news is read in the background. A dark take on apathy in Malaysia.
Meter by Benji & Bahir
Synopsis:The controversial head of UMNO Youth plays a taxi driver who is asked his views on some current Malaysian talking points. He ends up offering a keris to a Chinese boy as a gift.
Duit Kecil by Johan John
Synopsis: A man finds himself without small change in a cheap brothel. Many arguments ensue and problems faced by the Malaysian common man are discussed humorously.
Healthy Paranoia by Khairil Bahar
Synopsis: An over-zealous public relations consultant advises the current minister of health how to discourage unhealthy lifestyles in Malaysia.
Lollipop by Nam Ron
Synopsis: A haunting portrayal of a pedophile preparing to hunt, interspersed with metaphors on the state of Malaysian politics.
Rojak! by Suleiman Brothers
Synopsis: A Rojak seller's take on Malaysia's multi-faceted social political tapestry. Made entirely with CGI special effects. Visually stunning.
In short, 15Malaysia has done an Awesome Job!
Feel free to comment below.