Our Prime Minister, Datuk Seri Najib Tun Razak has invited all Malaysians from different walks of life to his open house on the first day of Hari Raya Aidilfitri which is expected to be on 20th September 2009.
All Malaysians welcome to Prime Minister's Raya open house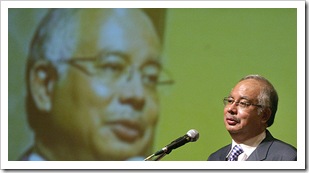 This will be the first time Najib is hosting an open house as prime minister after taking office on 3rd April 2009 and the event will be held in the Prime Minister's official residence, Seri Perdana in Precinct 10 here.
I been to the Seri Perdana Open House few times when Tun Dr. Mahathir was the Prime Minister of Malaysia from 1981 to 2003.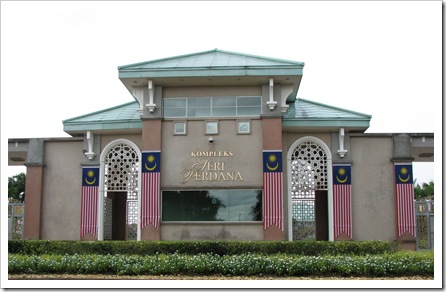 Most of the Cabinet ministers are also expected to attend the open house, to be held from 11am till 3pm.
To avoid traffic congestion, all visitors is encourage to take Public Transport.
A Feeder bus service will be provided from Putrajaya Sentral and the Putra Mosque square, and buggies are available for the handicapped and senior citizens.
Do take this opportunity to bond and appreciate friends during this Open House.
Bring your family and friends and also camera! 😀
Hari Raya open house list
PETALING JAYA: Below is a list of some of the Hari Raya open houses to be held from Sept 20.
Sept 20:
Prime Minister Datuk Seri Najib Tun Razak at Sri Perdana, Precinct 10, Putrajaya from 11am till 3pm.
Selangor Mentri Besar Tan Sri Khalid Ibrahim at Shah Alam Convention Centre, from 10am until 3pm.
Perak Mentri Besar Datuk Seri Dr Zambry Abd Kadir at his official residence at Jalan Raja Di Hilir, Ipoh, from 2pm until 5pm.
The Yang Dipertuan Besar of Negeri Sembilan Tuanku Muhriz Tuanku Munawir, at Istana Besar Seri Menanti, Kuala Pilah, from 10.30am to 2pm.
Malacca Governor Tun Mohd Khalil Yaakob and Chief Minister Datuk Seri Mohd Ali Rustam at the Malacca International Trade Centre, Ayer Keroh, between 10am and 3pm.
Sarawak Government's open house at the Indoor Stadium in Petra Jaya from 10am to noon, and 2pm to 4pm.
Former Prime Minister Tun Abdullah Ahmad Badawi at Pusat Budi Penyayang, Kepala Batas, Penang from 10am to 3pm.
Sept 21:
Deputy Prime Minister Tan Sri Muhyiddin Yassin at Complex Seri Pekembar, Pagoh, Johor, between 10am and 2pm.
Rural and Regional Development Minister Datuk Seri Shafie Apdal at his residence in Semporna, Sabah, from 9am.
Datuk Seri Husni Hanadziah at his house at Jalan Sukun Kampung Sungai Rokam from 11am.
Negri Sembilan Government's open house at the Dewan Undangan Negeri compound.
Deputy Chief Minister (I) Mansor Othman at Padang Awam Taman Guar Perahu, Kubang Semang, Bukit Mertajam, Penang, between 11am and 4pm.
PKR de facto leader Datuk Seri Anwar Ibrahim at Permatang Pauh, Penang, between noon and 2pm.
Sept 22:
Johor Mentri Besar Datuk Abdul Ghani Othman at 70, Jalan Raja Sungai Mati in Ledang, between 8am and 5pm.
Penang State Speaker Datuk Abdul Halim Hussain, Deputy Chief Minister (I) Mansor Othman and Balik Pulau assemblyman Yusmadi Yusof's joint open house at Kompleks Sukan MPPP, Jalan Sungai Nipah, Balik Pulau, from 11.30am to 3pm.
Masjid Tanah MP and Deputy Home Minister Datuk Wira Abu Seman Yusof at Bt 19 Paya Rumput, Masjid Tanah, Malacca, between 10am and 4pm.
Sept 27:
Higher Education Minister and Pasir Gudang MP Datuk Seri Mohd Khaled Nordin at Dewan Raya Johor Jaya, Johor Jaya, between 11am and 4pm.
Oct 4:
Deputy Education Minister and Batu Pahat MP Datuk Dr Puad Zakarshi at Dewan Jubli Intan, Batu Pahat, Johor, between 11am and 3pm.
From:thestar.com.my/news/story.asp?file=/2009/9/19/nation/20090919161824&sec=nation