Do you believe someone will fork out more than RM300,000 for a car plate number?
Yes…
A record is broken when the "MCA 1" registration number was bid with the highest bid of RM300,100, surpassing previous record holder "TAY 1", which received a bid of RM242,000 last June.
The registration number "TAN 1" early this year received a bid of RM200,900, the third highest bid ever received.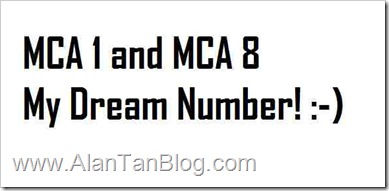 Some even sarcastically said that no one would want the MCA plate, but now it has broken records and is the highest tender (series) made in the country so far.
This is because some people perceive MCA as:
MCA = Malaysia Conmen Association,
MCA =Malaysian Corrupted Association
Read more about it at  Get Your MCA Number Plates Now
MCA president Datuk Seri Dr Chua Soi Lek, say the overwhelming bids in the JPJ tender for the MCA series of car number plates prove that people are proud of the party and love it.
Do you agreed  with what he say? 🙂
According to JPJ, a total of 965 bids were received for the "MCA" series of 1 to 9999 between Nov 24 and Dec 14.
The second highest bid in the series was for the number "MCA 2" at RM101,000 and "MCA 8" at RM88,168.
The most number of bids were received for the plate "MCA 888" with 15 bids and was offered at RM15,400.
It also reported that the revenue from the "MCA" series was about three times the normal revenue collected by the department in Malacca for other number plate series and has made the Road Transport Department (JPJ) richer by RM1.5mil with "MCA 1" receiving the highest bid of RM300,100.
On average, the JPJ collects between RM145mil and RM150mil per year from the sale of registration numbers offered through the tender process, contributing about 6% to the department's total revenue. There were 468 successful bids worth some RM1.5mil for MCA car plate number series.
Both MCA 1 and MCA 2 were bought by the same company, Asset Nusa Sdn Bhd, a Johor Baru-based company, which put in bids of RM300,100 – the highest paid in the state and country so far – and RM101,000 respectively.
The plate number "MCA 3" were bought by  Khoo Chong Kok who paid RM50,000  and Noraini Abd Ghapor, who put up RM14,444, for "MCA 4"
The Road Transport Department would notify successful bidders over the next two weeks, after which they would be given a month to settle the balance of payment. If the bidder fail to so then their deposit and the number plates they bidded for, will be forfeiture
In the past, , the number plate 'MBU 1' was bought for RM68,201 last year and 'TAY 1', issued by the Terengganu JPJ, was bought for RM220,000.
Latest Plate Number (JPJ)
As at 31 December 2010
| | |
| --- | --- |
| Perak | AHJ9553 |
| Selangor | BLB7055 |
| Pahang | CCS8045 |
| Kelantan | DBT5012 |
| Johor | JMQ7254 |
| Kedah | KCV6145 |
| Langkawi | KV497D |
| Labuan | LD4860 |
| Melaka | MCA153 |
| N Sembilan | NCL4789 |
| Pulau Pinang | PJX7261 |
| Kuching | QAV4962 |
| Sri Aman | QBA8924 |
| K Samarahan | QCC1244 |
| Limbang | QLA4487 |
| Miri | QMQ7004 |
| Kapit | QP5634 |
| Sarikei | QRF5291 |
| Sibu | QSU136 |
| Bintulu | QTH2637 |
| Perlis | RJ4427 |
| Kota Kinabalu | SAB7910D |
| Beaufort | SB1851B |
| Lahad Datu | SD4745F |
| Kudat | SK105A |
| Sandakan | SS5496N |
| Tawau | ST9352N |
| Keningau | SU3895B |
| Terengganu | TBB3690 |
| Kuala Lumpur | WUT5233 |