I just got an Exclusive Invitation to the Opening Ceremony of The Asia Trader & Investor Convention 2010 which will be held at Exhibition Hall 2, Kuala Lumpur Convention Centre on 20th March 2010 (Saturday) at 9.15 am.
ATIC Kuala Lumpur Opening Ceremony session is open only to specially invited guests from institutional investor firms, stock and derivative exchanges, securities brokerage firms, company directors, professionals and high net worth investor groups, financial media and partner-friends of NextVIEW.
.
Have you get Your

FREE Sponsored

Ticket to The Asia Trader & Investor Convention 2010?
.
If NO then you may Get it HERE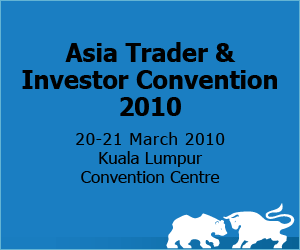 The ATIC Kuala Lumpur 2010 will showcase more than 30 local and international exhibitors and provide participants with high quality educational programs covering a wide range of investment seminars focused on Equities, Futures, Options, Commodities, Warrants, CFDs, ETFs, Property, Mutual Funds, Land Banking, Trading Strategies and Money Management.
.
Asia Trader and Investor Convention (ATIC) @ KL
.
.
Agenda
.
9:15am

:

Arrival / Registration of Guests

9:30am

:

Welcome Address & Keynote Speech
Mr. Stephen Lai, Chief Executive Officer, NextVIEW

9:40am

:

Opening Address & Official Launch of ATIC Kuala Lumpur
YBhg. Dato' Yusli Mohamed Yusoff, Chief Executive Officer, Bursa Malaysia

09:50am

:

Presentation of Tokens of Appreciation to Partners of Market Chat 2009/2010

10.00am

:

2010 Global Economic Outlook

10:15am

:

Panel Discussion:
The Year of the Tiger – Roaring  Higher or Slinking Lower?
Presented by Maybank Investment Bank

11:30am

:

Opening Ceremony Ends
ATIC Kuala Lumpur will feature more than 50 English and Mandarin seminars, 25 international and local speakers, 40 exhibitors and 15,000-20,000 targeted investors.
I hope to see you at the Free Seminar! 😀
.
Asia Trader and Investor Convention (ATIC)
.