Are you still looking for the lowest brokerage rates in town for Stock Trading?
Each broker in town are trying to increase their client base by offering the lowest brokerage rates.
I am now trading with Hong Leong Investment Bank because it offer minimum brokerage at RM8 per contract and lower brokerage at 0.10% flat for all transactions.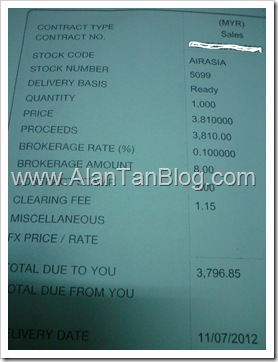 This account is called Value Trade Account.
You must request this type of trading trading else you'll get normal online account which offer minimum 0.380% brokerage rate.
The trading account must be cash upfront and the trading limit is 99% from  your cash balance.
Do take note that the settlement for outstanding Purchase contract is on T+2. I also get the contract notes via post.
I notice the Hong Leong Investment Bank online trading platform is not so stable as it'll hang sometime and have problem accessing it. Do experience the same thing?
Before this, I'm using Jupiter Securities.
Jupiter Securities offer me minimum brokerage at RM10 per contract, so I trade less with them now.  It's cheaper trading with Jupiter if the value traded above RM50,000 since they offer 0.05% Brokerage.
Read more at  Jupiter Securities: Bye Bye to RM8 Online Trading Commission .
Other broker seem like offering lowest brokerage like above.
I've talked to my friend who are working with the broker.
He claimed that broker is losing money by offering the cheapest rate and this promotion won't last long. Their expenses is very high as they need to pay for data and charting services, etc which is provided free to their clients.