Every Stock Brokers are working hard to promote their Online Trading Services but are facing an uphill battle against prevailing Volatile Market Sentiment, Expensive  Start-up and Huge Infrastructure Costs and a very low Internet Penetration rate.
The country's Internet Penetration rates also are still very low, with about 10 percent of the above 20 million population owning personal computers. Do not be surprise some of the homes still use modem 28.8kbs dial up for Internet Access!

Jupiter Securities is the champion in bringing Online Trading commission to the lowest as low as 0.05% or RM8.00! It offer as much as 88 percent Discount as compare to other Online brokers Rates! Lately they  advertising aggressively to attract new customers including running Expo, Roadshow and Evening Market Talk.
One tick also mean minimum price bid. Minimum price bid is the permissible change on the offer to buy price over the previous done or quoted price.  When trading on Bursa Malaysia, bids and offers for shares within different price ranges follow different minimum bids.
The following are the minimum price bids for the different price ranges: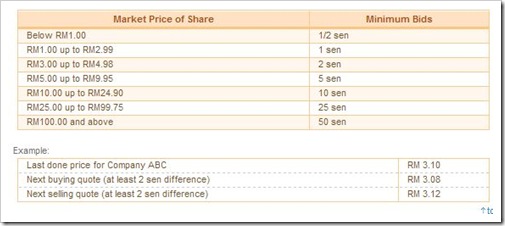 Sources from bursamalaysia.com
It's TRUE! and NOT Gimmick. With the 0.05% brokerage, YOU can make PROFIT even the price move JUST one tick!
HOW?
If I buy 1,000 shares of MAYBANK at RM5.05 and sell at RM5.10 then my gain is RM18.95. I make a PROFIT even with one tick move.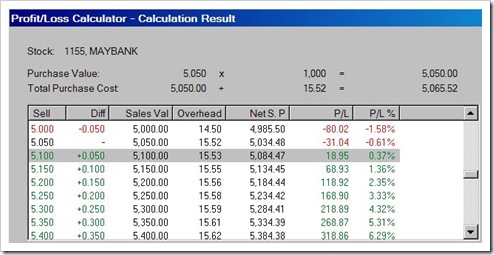 I can see your smiley face now. This is possible with the low commission rate of 0.05% or RM8.00.
Just do your own calculation!
Other brokers may offer 0.45% brokerage but Jupiter Securities offer 0.05%, that is 88 percent Discount on brokerage!
(0.45%-0.05%) / 0.45 x 100 = 88 % discount Saving!
Enough of the Advantages! What is the Catch(term and conditions) you may Ask 🙂
It has to be a CASH UPFRONT trading. i.e. money need to be deposited into your trading account in order to trade, the trading limit amount will be the amount of cash deposited. Therefore you do not enjoy Leverage Trading Limit which is normally offer by your beloved remisier.
Your Buy and Sell orders must be inputed via their ECOS (ie. Internet system). If used phone order then the discount rate do not apply anymore.
Your trade value must be above RM16,000.00 to enjoy 0.05% else minimum brokerage of RM8.00 will apply.
For example if you buy 10,000 share of KNM at RM0.405 then the brokerage rate is RM8.00  as shown below: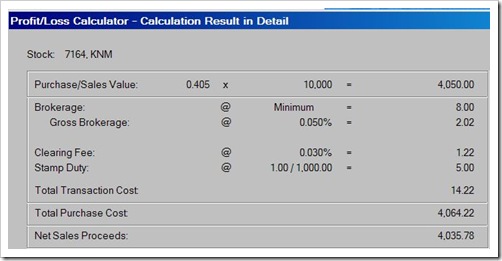 For share value above rm16,000.00 is based on 0.05%(RM8.10) rate as shown below: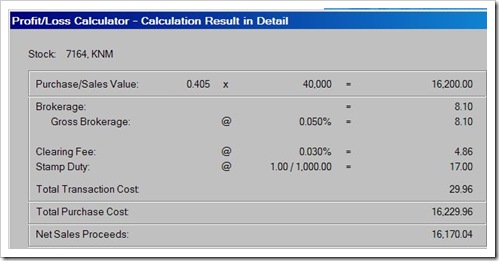 Just calculate how much you can save if you are actively trading!
The Stock Broker, Jupiter Securities do not incur any risk of default at all as all trades are cash upfront. The only challenge to them is to get the mass volume of customers to cover the high infrastructure costs.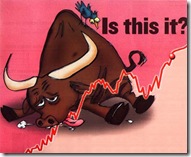 According to stock analyst, Malaysia markets should find good buying support now as there is almost zero holdings by foreign funds(nothing left to sell now literally) after massive redemption in their own country.
So use this low brokerage to your advantage.
I register my account at an Exhibition in KLCC recently and enjoy free CDS account opening and free moving cost(transfer my existing shares from other securities firm to Jupiter Securities for FREE).
For more information visit Jupiter Online
All comments are Welcome!