Want To Meet Live Face To Face Session With Local and International Financial Gurus?
.
How To Profit from the Asian Equity Markets And Commodities That Keep Making Historical Highs?
.
Are These Prices Caused By Rational Or Irrational Exuberance?  Will The High Get Higher?
.
Discover all the answer at Asia Trader & Investor Convention ( ATIC) on 2nd to 3rd April 2011, Kuala Lumpur Convention Centre for FREE.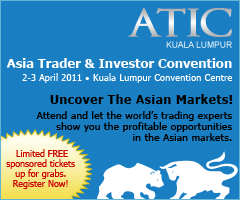 You'll have an opportunity  to meet face-to-face and hear what the world's market experts say in ATIC 2011.
I was at ATIC last year and it is a Must Attend event for everyone who want to get well-informed investment strategies and reliable insights to grow your portfolio!
The good news is all my blog readers will get a FREE Sponsored 2-day entry ticket worth RM28 to ATIC 2011 clicking the banner below. (OFFER expired)


This year will be the fifth year that ATIC was held in Kuala Lumpur.
The expo is  organized by NextVIEW Group and with an increased exhibition space featuring the following new highlights:
Over 50 investment Educational Seminar: Learn how investors make profit
Special Trading Focus Workshops on Stocks, Futures, Commodities, Gold, Options and Warrants
Indicator forum with Special Invited Panelist
Stock Vs Property investment forum
Stock analysis on Asian markets : Which stocks or sectors should you look out for?
Investor Clinic:  Get Your Questions Answered by International Experts
Islamic  Finance And Investment  Conference
Exhibition: The largest  gathering of financial products and services
Property investment showcase: :Find out what's in there for you locally and internationally
Largest finance and investment book fair
Lucky draw with Lots of Attractive Prizes to be Won
Event Opening Hours:
2nd April 2011:    0900 – 1800
3rd April 2011:    0900 – 1800
Venue Location:
Hall 5, Kuala Lumpur Convention Centre
About ATIC
ATIC is an exciting platform for Asia's local investors and traders to gather in selected cities to learn and be educated about the latest products and services offered by local and international exchanges, brokerage firms, banks, asset management firms, information service vendors and other financial service providers.
Along with an exhibition, ATIC hosts over 50 seminars conducted by more than 30 international and local speakers in each country, attracting over 100,000 active traders and serious investors across Asia.