I am RICH!!!!!! 🙂
.
A wealthy foreigner so called Jane Kamara, would gave me a hefty percentage of this fortune as a reward should I help her to move the million inheritance from his homeland!!!!
.
This is a scammer at Work.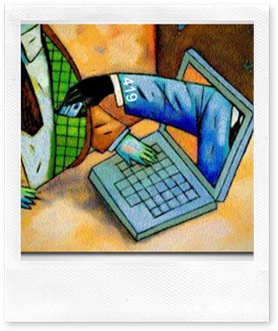 Just use your common sense and ask yourself—Why would a Stranger want to pay someone that they do not know to transfer so much money?
Never response to these unsolicited spam emails  and just delete them.
***Take Note:  There are no such thing as  get-rich-quick schemes—the only people who make money are the scammers alone.
***  Transferring money for someone else could be money laundering, which is illegal.
If you agree to help the scammer by letting them use your bank account, you could be getting yourself in a very serious trouble.
If you agree to take part, the scammer could use your bank account details to wipe out all your savings money.
Due to Greed, some people do fall into this trap(scam)
.
ABC NEWS Nigerian Scam Documentary(419)
.
.
.
————————————————————–
DEAR LOVELY ONE,
PLEASE PERMIT ME TO INTRODUCE MY SELF TO YOU, MY NAME IS JANE KAMARA,I AM 22 YEARS OLD, I AM THE ONLY DAUGHTER OF LATE MR.PASCAL KAMARA WHO WAS A FAMOUS COCOA AND GOLD MERCHANT BASED IN ABIDJAN HERE,THE ECONOMIC CAPITAL OF IVORY COAST (COTE D'IVOIRE) BEFORE HIS UNTIMELY DEATH.
I AM SEEKING FOR YOUR URGENT ATTENTION TO HELP ME TRANSFER THE SUM OF (US$10,500,000.00 ) INTO YOUR BANK ACCOUNT, IT IS MY INHERITANCE FUND FROM MY LATE FATHER, I AM WILLING TO OFFER YOU 15% OF THIS FUND AS YOUR COMMISSION FOR YOUR URGENT ASSISTANCE TO ME.
I WANT YOU TO KNOW THAT I HAVE ALL THE NECESSARY DOCUMENTS IN RELATION TO THIS FUND DEPOSITED BY MY LATE FATHER IN THE BANK.
PLEASE KINDLY MAIL ME IMMEDIATELY YOU RECEIVE THIS MY LETTER FOR ME TO GIVE YOU MORE IMPORTANT DETAILS CONCERNING THIS FUND AND EQUALLY SEND YOU MY PHOTOS SO THAT YOU WILL SEE AND KNOW WHOM I AM.
THANK YOU FOR BEING THERE FOR ME.
YOURS SINCERELY,
JANE KAMARA.
.
E-mail scam costs woman $400K in Nigerian Scam
.
.
419: The Nigerian Scam
.