I just got a promotion e-mail from Mr.G, a Malaysian Super Affiliate and author of physical book and e-book.
The e-mail is promoting a Link Cloaking membership service.
Membership service is a very good passive income model as the vendor collect subscription fee every month just like web hosting service.
Cloaking is a process where you mask or hide your url affiliate links.
Normally, online internet marketer use link cloaking service to prevent other
affiliates to "steal" their commissions and rob the sale.
In the promotion e-mail and Sales letter, it stated clearly that a "fact" why you should use or buy this Link Cloaking membership service.
The "fact" is "affiliate networks like ClickBank that actually encourages affiliates to buy with their own affiliate link"
The e-mail I got: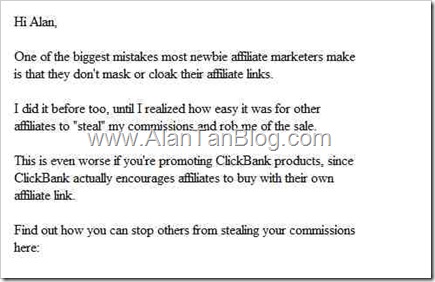 The Sales Letter: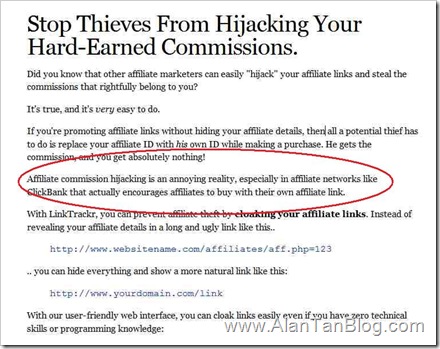 This "fact" is misleading and NOT True!
In fact, ClickBank discourage affiliates to buy with their own affiliate link!
This what the reply from ClickBank's official:
———————————————————————————
Hello,
Thank you for your inquiry. While it is possible to use your own affiliate HopLink to purchase products from ClickBank, this is a practice that WE DISCOURAGE as it can lead to payment issues for your account.
Please be aware of the Customer Distribution Requirement, which states your account must reflect sales made with 5 or more different credit card numbers, and the sales must have been made with two different payment methods (either Visa, MasterCard, or PayPal). Note: PayPal purchases do not count toward the minimum 5 different credit card numbers.
This requirement is in place to help prevent affiliates from abusing the ClickBank Affiliate Program by using their accounts for the sole purpose of collecting rebates and/or discounts on their own ClickBank purchases.
Although the Customer Distribution Requirement only has to be met once for each account, ClickBank continually monitors affiliate accounts to help prevent affiliates from abusing the ClickBank Affiliate Program. Affiliate accounts are for earning commissions on sales that other customers, not yourself, make through your links.
Please note that if your account is ever found to be violating our Client Contract, it can be terminated and any funds earned through purchases through your own HopLink can be held.
You may review our accounting policies by following the link below:
clickbank.com/accounting.html
Thank you,
Jenny
ClickBank Client Support
——————————————————————————————
This misleading information should not be happening at the first place and the Super Affiliate(I am sure) fully aware of this rules.
This guideline NOT only apply to affiliate networks like ClickBank only but apply across all the other affiliate networks as well.
I hope Super Affiliate can be more professional and gave correct information even they need to push the Sales.
Worst still, I notice some Super Affiliate even resolve to use Grey and Black Hat Technique like Cookies Stuffing, in order generate high commission and become Top Earner.