This is the latest Financial Consumer Alert list (updated on 16 Oct 2012) releases by Bank Negara Malaysia(BNM) or Central Bank of Malaysia.
The list contain companies that involved in Forex trading, Unlicensed activities and Gold investment.
This list of alert was announce to alert the members of the public a list of companies and websites which are neither authorised nor approved under the relevant laws and regulations administered by BNM.
Some of the obvious name are Azea Property Sdn Bhd, FX Primus, Genneva Malaysia Sdn Bhd, Public Gold Sdn Bhd etc.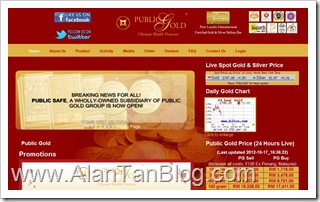 I've attended preview on Property Investment conducted by Azea Property Sdn Bhd. The are selling a Property Investment seminar. I heard they their graduate are very active in en-bloc buying of commercial property.
If you are involve in Forex trading, you won't miss FX Primus. It seem like people will fund money to their FX Primus broker before can start trading Forex.
Genneva Malaysia Sdn Bhd do not need any introduction. The company was raided by BNM last two weeks ago. Read more at Genneva Gold Offices Raided by Bank Negara Malaysia
Please note that Public Gold Sdn Bhd is NOT related to Public Bank. Yes, it was very misleading. I'm not sure sure why Public Bank allow that to happen.
I hope you will not fall prey to these schemes.
Do take note that the list is not exhaustive and only serves as a guide to members of the public based on information and queries received by BNM.The list will be updated regularly for public's reference.
Bank Negara Malaysia (BNM)-Financial Consumer Alert
 How to detect an illegal scheme?
Members of the public are advised to be careful and not fall prey to these schemes. Be alert and look out for the following common features of these illegal schemes:
The approach by the operators may have been made by mail, telephone, Internet or in person, but the intention is always the same, that is, to take money from unsuspecting victim for goods or services that they have no intention to provide.
Schemes which promise interest rates, returns or profits, which are much higher than the returns offered by licensed financial institutions for their deposits.
The promises of high returns are aimed at attracting the members of the public to participate in the schemes and the investors may not be given copies of any documentation including agreements by the operators.
There is also no assurance that the operators of such schemes can continue to pay the high returns.
At the beginning of such schemes, the operators are able to use money received from subsequent depositors to pay high returns or to repay the principal amount to the earlier depositors.
However, the operators could not invest the deposits in equally or more lucrative ventures or investments and therefore unable to sustain the high returns or repayment promised to their depositors.
Please note that these schemes will fail eventually when there are no new deposits being continually received by the operators. At such time, the "get-rich-quick" schemes will collapse and the depositors or investors will lose their investments.
Source: BNM