CyberSecurity Malaysia  have warned everyone about  phishing website targeting to Cheat and Collect confidential information like their e-banking user-names and passwords.
Phishing Website is a
FAKE websites!
User maybe easily fooled into giving away their account credentials as the phishing websites look exactly like some of the well-known local banks' e-banking websites.
Don't be FOOLED!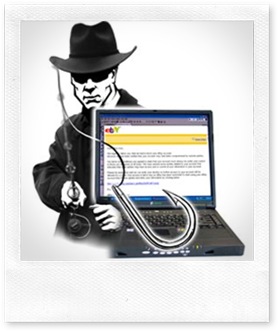 What is Phishing?
Phishing is the term coined by hackers who imitate legitimate companies in e-mails to entice people to share passwords or credit-card numbers.
.
Phishing Scams in Plain English
.
.
Recent victims include Charlotte's Bank of America, Best Buy and eBay, where people were directed to Web pages that looked nearly identical to the companies' sites.
* Never respond to e-mail that request for your Credit Cards or Banking information.
* Do not EVER respond to e-mails that ask you to go to a website to verify personal(and Credit Cards or Banking) information.
* Be cautious about e-mails that offer credit and promotion services. many unsolicited e-mails are fraudulent.
* Never click on Internet Web link within e-mails.
Instead type the ink manually.
This maybe Phishing!
.
Symantec Guide to Scary Internet Stuff – Phishing
.
.
Beware Of Phishing Website
.
Members of the public are reminded to beware of phishing or fake websites used to conduct 'phishing attack' by masquerading as trustworthy entities such as familiar banking websites.
The reminder came from CyberSecurity Malaysia which revealed that the number of phishing attempts is on the rise and accelerating.
"The Cyber999 Help Centre has been receiving numerous reports from Malaysian Internet users regarding phishing websites hosted overseas, that look exactly like some of the well-known local banks' e-banking websites," CyberSecurity Malaysia chief executive officer Lt Col Husin Jazri said in a statement here on Tuesday.
He said the 'phishing attack' also utilised a kind of social engineering tactic such as sending spam e-mails that looked as through they were sent by well-known local banks.
The fraudulent e-mail uses convincing words to trick people into clicking a link that would open up the phishing website or fake e-banking website, he said.
"Because the fake website looks exacly like the original website, customers are tricked into entering their confidential information like their e-banking user-names and passwords into the fake e-banking website," he said.
This way, the 'phishing attacker' could conveniently steal user-names and passwords of unsuspecting bank customers, he added.
"Banks will never ask users to do account updates, password reset, account unlocking or anything in relation to banking via e-mails and URLs," he said.
Thus the centre advised the public to completely ignore the e-mails should they receive such e-mails which look similar to those from the banks or any financial institutions.
Those who receive such spam e-mails are advised to contact their banks for verification or contact Cyber999 Help Centre.
CyberSecurity Malaysia is the national cyber security specialist centre under the purview of the Science, Technology and Innovation Ministry.
The service includes Digital Forensics/CyberCSI, Malaysia's Computer Emergency Response Team (MyCERT)/Cyber 999, Security Management and Best Practices, Security Assurance, Cyber Security Training and Professional Certification, Outreach, Awareness, and Social Responsibility Programmes and Cyber Security Policy and Legal Research.
from:bernama.com/bernama/v5/newsgeneral.php?id=463889