You have get information on Cheap Domain Name at Get dot Com Domain for Only $0.99| GoDaddy, so what next?
Yes.
It time to get a Web Hosting.
I highly recommend you use the Web Hosting Provider called HostGator.
This hosting is the Best Value for Money and has  99.9% uptime guarantee, 24/7 support and a 45-day money back guarantee.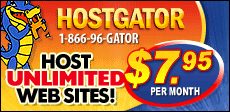 Their support is very Fast, Helpful and Reliable.
Web Hosting is an essential part of the whole internet business model.
What is Web Hosting?
A web host is a company that has powerful computers that are hooked up to the Internet 24 hours X 7 days.
These computers are called web servers and they are assigned an unique IP numbers in order that they may be found by other computers hooked up to the internet.
.
Web Hosting Technology
.
It is on these servers that all your web files are stored, be they HTML files (web pages), Blog, graphic files, CSS files, Javascripts, PHP, MySQL etc
Basically what happens is when someone type a web address like www.AlanTanBlog.com  into the address bar of your browser and then hit Enter, your browser sends out a request to 'get' this Blog
The request travels across the internet to the appropriate web server and attempts to locate the web page on that server.
If the request is successful (web page exists) then that web page will load (or download) into your web browser.
For those who new in Blogging, it is Good not to spend too much money and keep your costs to the minimal.
I come across a Free Web Hosting and Reseller Hosting with cPanel and No Ads called HostBlueCow.com.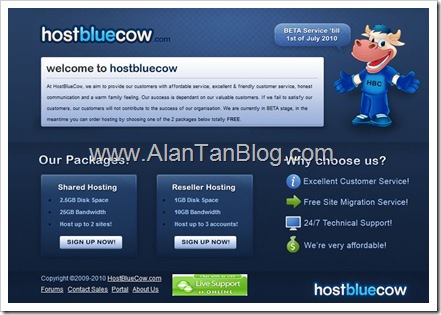 This web hosting was launched on 19 December 2009 and provides FREE Shared Hosting and Reseller Hosting service until 1st July 2010.
They are currently in the beta stage, which means, you can feedback continuously and test drive prior to their official launch.
During this period, you may tests on their service which include network speed, server load stress test and customer service.
HostBlueCow also provide FREE site migration! 
Just drop them a support ticket
FREE Shared Hosting with cPanel and No Ads
# 2.5GB Disk Space
# 25GB Bandwidth
# Host up to 2 sites!
FREE Reseller Hosting with cPanel and No Ads
# 1GB Disk Space
# 10GB Bandwidth
# Host up to 3 accounts!
Server Specifications
Server1
   Dual Quad Core Intel Xeon L5300/L5400 Series CPUs (16 Cores)
   DDR2 667Mhz Dual Rank, Fully Buffered Ram
   Hard Drives in RAID 10
   Daily Data Backup Included
   Type: VPS
This  VPS is actually a monster compared to other dedicated servers and it is fully scalable to cope with the load demands.
Server Located in Los Angeles, US, well connected with multiple gigabits fiber connections to Savvis, PCCW/BTN & XO Communications.
This server is capable of serving content with fast access speeds to Asia, Australia and US.