Investor usually decide to invest because they are seeking to obtain Maximum return on their investment, and we all know that a bank Fixed Deposit is not the place to attain such goal.
This will give you safety but definitely will not make you rich.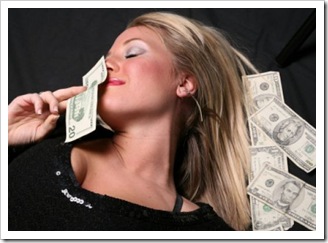 I am sure you always keeping eyes on looking into the best investments options that is available.
How to Make Money in REIT-Real Estate Investment Trust?
In order to make it less intimidating to start investing in REIT (Real Estate Investment Trust), we are going to explore what are the things to look for:
1) What is your Investment Objective?
REITS in a long term investment just like buying a property. Therefore you cannot buy REIT today and sell it in next 5 months.
2) Ability of the REIT company to meet their Forecasted Dividend Yield
REITS in Malaysia are generally returning to shareholders dividend yield of between 6.5% and 7.5%. In the short-term this is likely to be the scenario; however, in the long- term, a well-run REIT should be able to pay out dividends in excess of 10% per annum, due to, among other factors, rent increases as the market improves, as well as extraordinary gains due to capital gains on asset disposal.
3) What is your Portfolio Class Preference?
Everyone have different investment flavor.
Axis-REIT is focused on industrials offering principally office and warehouse space used by trading companies such as Fuji Photo Film, Fuji Xerox, Minolta, Ricoh, Electrolux, Philips and DHL.
The YTL–REIT is focused predominantly on the retail trade as can be seen from its investment into Starhill as well as Lot 10 Shopping Complex.
The UOA and Tower REIT have their attention focused on office space.
The KPJ Healthcare REIT, is focused on investments in hospital buildings.
4) Is the REIT Syariah Compliance Important?
Hotels for example which serve liquor is against syariah compliance.
More REIT listings expected early next year as yields fall
By Jeeva Arulampalam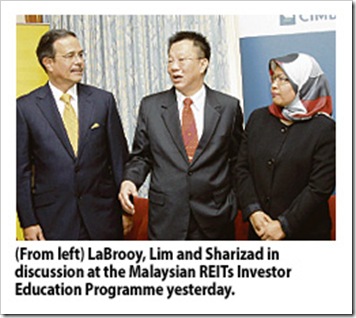 Among the potential REITs that may list on Bursa Malaysia next year are Sunway City REIT and Singapore's CapitaLand REIT
MORE real estate investment trusts (REITs) could be listed on the Malaysian bourse early next year as yields fall to levels more manageable for the issuers.
Malaysian REIT yields are averaging at some 9 per cent but issuers are holding off for yields to drop to pre-crisis levels of 6 to 7 per cent. REIT yields rose as markets were hit last year, causing huge discounts to the net asset value (NAV).
"Most investors looking to launch new REIT IPOs (initial public offerings) will want yields to come down. That depends on risk appetite and how the whole global economy pans out in the next 3 to 6 months," said Maybank Investment Bank Bhd equities capital markets director Ramesh Manimekalanandan.
He was speaking at a press conference held in conjunction with the Malaysian REITs Investor Education Programme in Petaling Jaya, Selangor, yesterday.
Ramesh added that REIT listings could be as early as the first quarter of next year.
Among the potential REITs that may list on Bursa Malaysia next year are Sunway City Bhd's (SunCity) REIT and Singapore's CapitaLand Ltd REIT.
Currently, Malaysia has 13 REITs listed on Bursa Malaysia with an estimated market capitalisation of RM4.1 billion as at January 2009.
Axis REIT Managers Bhd chief executive officer and executive director Stewart LaBrooy said it did not make sense for companies to list REITs in prevailing market conditions as they will not be able to sustain the high yields.
"REIT managers are looking for acquisitions but it is hard to find acquisitions that can get you more than 9.5 per cent. It is a tough environment for REITs," said Ramesh.
Meanwhile, LaBrooy urged retail investors to consider local REITs as an investment option for regular income and capital growth.
"The share price (of REIT) does not matter until the day you decide to exit the REIT. So if your investment horizon is for five to 10 years, the market price is just noise that happens from day to day," said Amanahraya-REIT Managers Sdn Bhd director Sharizad Juma'at.
Am ARA REIT Managers Sdn Bhd chief executive officer Lim Yoon Peng added that investors could choose to exit during a market upcycle and re-enter when the REIT's share price falls.
Similar to physical property, the regular dividend payment from a REIT serves as rental income while the share price gain serves as capital gain.
Individuals wanting to learn more about REITs can attend a talk held at Hilton Petaling Jaya on August 15 at 8.30am. It is jointly organised and sponsored by Axis REIT, Amanahraya-Reit, Am ARA REIT, Regroup Associates Sdn Bhd, Maybank Investment and CIMB Investment Bank Bhd.
From:btimes.com.my/Current_News/BTIMES/articles/jreit/Article/
Room for more listed REITs in Malaysia
REIT transactions account for only 11% of local market capitalisation
By ANGIE NG
PETALING JAYA: Malaysia, which has 11 listed real estate investment trusts (REITs) and two property trusts, can accommodate more listed REITs to add further depth, liquidity and asset choices to the stock market.
Currently, REIT transactions account for only 11% of market capitalisation in the country compared with 52.1% in North America.
According to the latest Asian Public Real Estate Association's weekly REIT report, Asia's REIT industry has a market capitalisation of US$58.86bil, with Japan taking the lead with US$30.5bil.
Malaysia's US$1.43bil in market capitalisation is behind the rest of the pack, including Singapore (US$15.1bil), Hong Kong (US$8.3bil), Taiwan (US$1.53bil) and Thailand (US$1.52bil).
Come next year, if Sunway City Bhd goes ahead with its proposed listing of its RM3.7bil REIT on the local bourse, it will be the industry's largest. Also in the pipeline is CapitaLand Ltd's retail REIT, which will be the first foreign-sponsored REIT on Bursa Malaysia.
Axis REIT Managers Bhd chief executive officer and executive director Stewart Labrooy said shareholders' current expectations of high dividend yields would not be conducive for new REIT listings.
"The average prevailing yields of 8% to 10% are considered high. When the market stabilises and the unit price of REIT goes up, yields should come back down again to around 7% to 8%. When that happens, it will be a better time for new REITs to be listed," he said.
Although the market environment has turned more positive following the Government's liberalisation measures, Labrooy said there was a need to create a more attractive tax regime for REIT investors in relation to withholding tax.
"We would like to see distributions for Malaysian REITs not to be taxed to promote greater retail participation. A higher retail investor participation in the market will create a higher liquidity and trade volume," he said.
He lauded the Securities Commission (SC) for doing a great job in supporting the local REIT industry by constantly engaging with industry players for feedback and acting on them.
"There was a complete revamp of the REITs guidelines last August. The SC has been very innovative and was the first to come out with Islamic REIT guidelines," Labrooy said.
He said there was potential for new sectors to be introduced including toll-roads, airports, serviced apartments, university accommodation and even prisons.
In terms of total returns over the past one year, Labrooy said five Malaysian REITs (M REITs) emerged among the top 10 performing REITs in Asia. They were Al-Hadharah Boustead REIT, UOA REIT, Al-Aqar KPJ REIT, Axis REIT and AmFirst REIT.
The total returns (comprising the share value plus dividend yields) for these top performing REITs ranged from 17% to 30%.
Labrooy said M REITs had bounced back from their lows in December last year and were "displaying the true characteristics of how REITs should behave in a volatile market by making steady gains over a period."
Although the worst may be over for M REITs as most of their unit prices have recovered to match their net asset value (NAV), there are still some challenges that need to be addressed by industry players.
"There is a need to move short-term debt into medium to long-term debt to match the leasing period and remove uncertainties of volatile interest rates. At the end of the day, it is better for industry players to opt for longer term debts and a good ratio will be 60:40 of long term to short-term debts," he added.
There is also a need for a higher retail investor participation in the REIT market as currently the market liquidity is still low. This can be addressed by expanding portfolios and market capitalisation of each of the listed funds.
Labrooy said following the improvement in the market, Axis REIT has recently got back on its asset acquisition trail with the latest addition of a RM65mil logistics centre in Port Klang.
At the same time it is also planning a placement of 51.18 million new units into the market which will provide the funding for the purchase of an additional RM120mil of new assets which have already been identified.
"Our intended goal of achieving RM1bil in assets under management was delayed by the crisis last year but we are back on track and will continue to execute our strategy for the benefit of our unitholders," he said.
As at June 30, Axis REIT has 19 properties under its stable with assets under management worth about RM728mil and approved fund size of 255.9 million units.
From:biz.thestar.com.my/news/story.asp?file=/2009/8/17/business/4525773&sec=business
REITs Able To Attract Funds From Investors, Say Managers
PETALING JAYA, Aug 13 (Bernama) — Real estate investment trusts (REITs) enable investors to place their funds in countries where they may not have a chance to invest in properties, according to those managing REITs.
Axis REIT Managers Bhd's chief executive officer and executive director Stewart LaBrooy said more importantly, investors could choose between different countries and at different points of the property cycle.
He said that REIT trade accounted for only 11 percent of market capitalisation in Malaysia compared to 52.1 percent for North America. "Out of the Asian REIT market with a total of US$48.23 billion, Japan took the lead of US$28.9 billion while for Malaysia, it was only US$1.18 billion," he said at a press conference held here Thursday in conjunction with MREITs' Investors Education Programme to be held this Saturday.
LaBrooy said in the market, Malaysia was behind countries in the region like Japan, Singapore, Hong Kong, Taiwan and Thailand.
At the press conference, AmanahRaya-JMF Asset Management Sdn Bhd's chief executive officer Sharizad Juma'at said the importance of REITs was that it could help to develop the broader economy.
"With REITs come better transparency, efficiency, and access to stable, global and more competitively priced capital," she said.
Sharizad said REITs have high level of corporate governance, being governed by trust deed, and stock exchange and Securities Commission regulations.
Regroup Associates Sdn Bhd's managing director Allan Soo said the Klang Valley market slowed down in first half of 2009, with major investment transactions from local buyers at slight discount.
"The market will continue to slide gradually for rest of year and a few more transactions will occur as funds come back into the market," he said.
The investor education programme is organised by AM ARA REIT Managers Sdn Bhd, AmanahRaya-JFM Asset Management, Axis REIT Managers, CIMB Investment Bank Bhd and Maybank Investment Bank Bhd.
From:bernama.com/bernama/v5/newsbusiness.php?id=432677
Axis REIT to revamp 'icon' after losing Nestle as tenant
By LEONG HUNG YEE
PETALING JAYA: Axis Real Estate Investment Trust (REIT) will soon lose Nestle (M) Bhd as an anchor tenant in one of its properties but it is in discussions with prospective tenants.
Before it leases out the office space, Axis REIT will renovate the property, long known as Nestle House, in Petaling Jaya to draw new tenants.
Axis REIT Managers Bhd chief executive officer Stewart LaBrooy said the group would embark on a major refurbishment called "The remaking of an Icon".
Stewart LaBrooy … We have a substantial pipeline of properties in place
"We will be spending RM7mil to renovate and reposition the building as a 21st century icon. Renovations are targeted to be co-meted by January next year. We expect the building to be ready by 2010," he told StarBiz.
He said changes to the exterior, interior and mechanical and electrical systems were planned.
To a question, LaBrooy said: "Nestle says that the building is too small to cater for its future needs."
Nestle is said to be moving out from its headquarters, Nestle House, in October to Surian Tower in Mutiara Damansara.
LaBrooy said Axis REIT purchased Nestle House for its iconic status and location and was one of its best buys for the trust.
"It has one of the best locations in Petaling Jaya and our acquisition price of RM375 per sq ft was a bargain by all counts," he said, adding that to date, the building had generated a lot of interest in the market.
"We are actively speaking to many potential tenants. The impact to the trust will be a building with better returns in the long term once the makeover is completed," LaBrooy said.
While he remained unperturbed by Nestle's moving, he did not disclose if the move would affect the trust.
"Our strength lies in our diverse portfolio of 19 properties as it spreads risk over a much larger base," he said.
LaBrooy said the company was always looking for high-yielding acquisitions that would benefit the trust. "We have a substantial pipeline of properties in place," he added.
Axis REIT's occupancy as at March 31, rose to 95.4%, up from 95.2% as of Dec 31, 2008, with a few vacancies in its office properties.
LaBrooy said the company had positive rent reversions in the first quarter of this year. He said the rates were extremely competitive vis-a-vis the current markets and well below the rates charged in KL.
"As a result, we are getting enquiries from companies wanting to move out of KL to Petaling Jaya to reduce costs or avoid traffic woes," he added.
For the first quarter ended March 31, Axis REIT posted a net profit of RM10.4mil, up 15.4% from RM9mil in the previous corresponding period. Revenue for the period rose to RM17.3mil from RM14.5mil a year ago.
It reported earnings per share of 4.07 sen versus 3.76 sen a year ago.
From:biz.thestar.com.my/news/story.asp?file=/2009/5/15/business/3898891&sec=business
REIT firms targeting northern investors
Over RM354bil in fixed deposits, savings poised to be tapped
By DAVID TAN
GEORGE TOWN: Real estate investment trust (REIT) companies are now targeting investors in the northern region, particularly the high net-worth individuals and "men on the street."
»They hope to channel some of these funds into REIT « GAN KIM KHOON
OSK Investment Bank Bhd (equity capital markets) director Gan Kim Khoon said there were over RM354bil in fixed deposits and savings of individuals in the country waiting for REIT companies to tap.
"They hope to channel some of these funds into REITs, which are high yielding and low risk in nature," he told StarBiz after a one-day roadshow on REITs-Investors Outreach Programme recently.
The REIT companies from Kuala Lumpur that took part in the event included Axis REIT Managers Bhd, AmFirst ARA REIT Managers and AmanahRaya-JMF Asset Management.
"Outside Kuala Lumpur, REITs have little exposure from large companies, and participation by individual investors is also small," Gan said.
Investment in REITs presently offered the best yield, ranging from 8.5% to 12% yearly, based on current earnings, he said, adding: "In such a challenging climate, there are not that many stocks that can give you such yields. It is better than putting funds in fixed deposits."
Stewart Labrooy … 'After upgrading, the valuation increased to over RM140mil'
Meanwhile, Axis REIT Managers chief executive officer Stewart Labrooy said the company regularly implemented asset-enhancement exercises to increase the value of its assets.
"Last year we injected about RM3.5mil to upgrade one of our office buildings, Wisma Kemajuan, in Petaling Jaya. After upgrading, the valuation for the property increased to RM52mil, compared with the original valuation of RM29mil in 2005," he said.
He said Axis REIT recently spent RM8mil on two of its commercial properties which were originally valued at RM106mil.
"After upgrading, the valuation increased to over RM140mil.
"Through such asset-enhancement exercises, we create more value-added space, which in turn attracts more tenants, and increases our income from rentals," he said.
From:biz.thestar.com.my/news/story.asp?file=/2009/7/14/business/4266048&sec=business