RIP Yasmin Ahmad (1958 – 2009)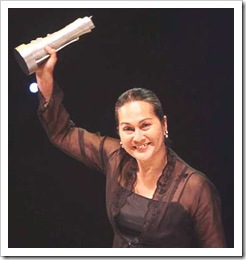 Yasmin Ahmad, brought so many gifts, masterpieces to inspire us and memories to our life.
We will never forget you!
I'm not a fan to Malay movies. But Sepet, was the first Malay movie VCD  that I ever bought!
It totally changed all my negative feeling about Malaysian made movies. This movie has made me laugh and cry at the same time.
This film deals with the subject of interracial relationship between a poor non-religious Chinese boy(Jason or Ah Loong) who happens to write poetry and loves Malay films, and a middle class Malay girl(Orked) who happens to love Chinese and Japanese films.
The plot was a Chinese boy falling in love with a Malay girl and goes through a series of events that ends 'tragically'.
Truly Beyond A Malaysian Love Story.
This are some of her Great and Creative works:
————————————————————————
One of Malaysia's icons has departed but her work, including her special commercials, will always resound with the people.
THE late Yasmin Ahmad, 51, made the world of advertising stand up and take notice first in print ads and then TV commercials (TVCs). She was most renowned for her Petronas series of television ads that marked the Merdeka celebrations and all the major festive occasions, Hari Raya Aidilfitri (and Aidil Adha), Chinese New Year and Deepavali.
While those commercials, which never highlighted the brand itself, were mostly considered warm and touching, they had their detractors. Sentimental, feel-good, simplistic hogwash were some of the words the critics used to describe them.
Yasmin had the comeback for that in an entry from her blog in August, 2004.
Message from the heart: Yasmin Ahmad with her commercial, Tan Hon Ming In Love. This commercial is special as it was not planned, scripted or rehearsed. The look of sheer delight on the boy's face when the girl declares on camera that he is her boyfriend says it all.
"Late last year, a British book reviewer asked Arundhati Roy, the award-winning author of The God Of Small Things, why she had 'slipped' into such extreme sentimentality in her then latest book. I found her reply to the question at once refreshing and reassuring.
"'Why are you so afraid of your sentiments?' she said, or words to that effect.
"For years I had been pooh-poohed by people in the advertising industry for the unabashedly sentimental stories I tell in my Petronas festive season commercials. Ms Roy's words reassured me that I needn't apologise for any of it.
"Why? Well, try this test. Step One, look back on your life. Step Two, remove every bit of sentimentality from it. What have you left? Only the worst life imaginable, that's what."
We have had Yasmin and the Petronas ads in our lives since 1995 (though she had been working with Petronas on its print ads prior to that). They've become almost an institution, something you expect to see every year just like the Merdeka parade. Many teenagers practically grew up with those ads, and many will probably be looking forward to a new one for next month's 52nd Merdeka celebrations.
Unfortunately, there will not be one. Not because she did not complete it in time but Petronas did not commission her to do one this year.
"Yasmin was very disappointed, not happy about it at all but there isn't anything you can do about it," Leo Burnett managing director Tan Kien Eng tells StarTwo.
One of Yasmin's public service ads that sparked some outrage was about courtesy on the LRT. Some quarters took exception to the fact that the character portrayed in a negative light was Malay.
Petronas Legal & Corporate Affairs Division senior general manager Mohd Azhar Osman Khairuddin confirms (via e-mail) that another agency is doing the ad but declines to elaborate. However, he adds that Leo Burnett's team will still do the upcoming Raya and Deepavali ads, sadly without Yasmin at the helm.
The Petronas advertisements, says Tan, were all about Bangsa Malaysia, unity and how different people remembered different ones. His most memorable one was the Raya ad where the mum asks her four sons to go buy some meat and they end up bringing back a whole live cow.
"Some remember the Merdeka ad, the little Indian boy who sat on his father's shoulders and heard this man shouting Merdeka. Different people remember different things and were touched by different commercials.
"The great thing is that you read the blogs or the papers after a festive holiday, and people are talking about her work. It's unusual around the world for people, normal everyday people, to talk about advertising. That's the last thing people talk about – people normally read the news not the ads. We watch TV for the programmes not to look at ads. Her work … people look out for, wait, anticipate and watch and comment. That shows how engaging her work is," points out Tan.
And he adds that Yasmin embodied and came up with the concept of 1Malaysia way before the term was even coined. I tell him about Yasmin's last interview where she spoke, among other things, about 1Malaysia with The Star Online TV (Yasmin Ahmad, the Storyteller) two days before she suffered her stroke.
"I've been talking about it for 20 years in my commercials and films and in my writings. So when they came up with 1Malaysia, I thought, ai ya dat fellow copy me (sic)," she said in her usual straight-talking humorous style. She added later: "Whomever was in charge never said it before."
Back to the Petronas ads, according to Tan, though Yasmin was executive creative director at Leo Burnett, she included everyone when coming up with the campaigns.
"Yasmin would call everyone, every single person. Ask them to think about ideas and then she would make those ideas sharper and better. The reason she wanted everyone was that she wanted to give people an opportunity to suggest what was right for the brand. To take the best and work with the person. She would always make it better, sum it up better than anyone else."
The ad with the Indian boy (actually the first one done for Petronas for Merdeka in 1995) was one of Yasmin's personal favourites, because for the first time, a minority race was used.
"Back then, this was uncommon due to marketing purposes, but it touched my heart that when Malaysians saw it, they didn't see a boy of a particular race but they saw a young Malaysian. I was very happy that Malaysians could relate to it and that it united the nation in some way," she had told StarWeekend in 2007.
As to her inspiration, Yasmin said: "Humility is about respecting elderly people and different races as your equal. I saw humility in Petronas as they are local high achievers who are humble and down to earth. I liken them to Cambridge doctorate holders who drink teh tarik at a mamak stall.
In Yasmin's first Merdeka commercial for Petronas, an Indian boy is hoisted onto his father's shoulders as the crowd shouts Merdeka! Merdeka! Merdeka!
"The traits I see in them are reflected in my commercials."
It was Yasmin who approached Petronas in 1995, says Mohd Azhar, to propose a new concept of communicating their messages in line with their values, beliefs and philosophy as a company.
He says for Petronas, it was an enriching experience working with Yasmin, from which they learnt a lot about Yasmin the person, and she about Petronas.
"It was also a privilege working with her. As the highly principled person that she was, we felt that she wouldn't have agreed to work with us had she not believed in our own values and in what we are trying to do as a company," says Mohd Azhar.
For Petronas, Yasmin's legacy was to remind Malaysians time and again of who they really are, "… with her ability to creatively translate our many complex issues as a people through simple emotions, with courage, sincerity and honesty."
Many of her advertisements (both broadcast and print) have won numerous awards, including the Petronas TVC for the Merdeka 2007 ad campaign – Tan Hong Ming In Love. It won 13 awards worldwide, including two gold and one bronze at the prestigious 2008 ANDY awards in New York.
It was also Yasmin's favourite. It's about a primary schoolboy, Tan Hong Ming, who has a crush on Umi Kazrina but does not tell her. When she declares that he is her boyfriend on camera, the expression on Hong Ming's face says it all.
Another ad in that series saw two primary schoolboys who are best friends. When one boy is asked what his friend's race is, he replies: "Race? Racing car? I like racing car."
And that basically sums up the essence of Yasmin's work – that everything should transcend race. In that last interview with thestaronline, she noted that Hong Ming represented all the hopes she ever had.
"Didn't know what he was going to say, just knew the questions I was going to ask. I had a hunch that children are not race conscious until their parents teach them to be race conscious. A lot of people blame the Government for the racial separation. Before governments get in the way, parents get in the way. I know parents who teach their children to be racists."
She emphasised that 1Malaysia didn't mean taking on more of the characteristics of another race but was rather about embracing the differences.
"Most of my films and commercials involve young people. Because therein lies the hope."
It seems prescient now but she also said in that interview: "We're going to die very soon, it's in the hands of the next generation."
Yasmin also had a knack of spotting talent and bringing out the best of them.
"She's also a psychologist, she understands people, makes them feel at ease. And she finds real people because she is interested in people," says Leo Burnett's Tan.
Leo Burnett chairman Ali Mohamed (whom Yasmin used to refer to as her soulmate) says they shared this interest in learning about people. Ali did a lot of the early work with Yasmin.
Yasmin's husband Tan Yew Leong was also the art director for many of those TVCs. Ali says that they set out to create ads that people could relate to with the heart and not something technical.
"I learnt from Yasmin to articulate the importance of what people feel. It's not what we put into it (the ads), it's what people get out of it. She let people decide for themselves," says Ali.
Yasmin went to Britain in the 1970s to study and returned with a degree in psychology but she always seemed to have an inborn sense of the mind and how it influences behaviour. Back home in Malaysia, the Muar-born did a stint as a marketing representative in Kuala Lumpur before joining ad agency Ogilvy & Mather as a copywriter.
In 1994, she joined Leo Burnett as creative director. She first attracted attention with her print ads. Tan remembers the breakthrough in the 80s with a print ad for Maggi soya sauce that asked: "Why did the Europeans colonise us? Was it sun, sex or sauces?"
Then came other award-winning print ads like the series she did for BritishIndia that helped make it a household name. They all had her brand of cheeky humour that occasionally courted controversy.
One of Yasmin's public service ads that sparked some outrage was about courtesy on the LRT. It seemed innocuous enough but some quarters took exception to the fact that the character portrayed in a negative light was Malay. It was hardly Yasmin's intention to shine the light on anyone but as Tan puts it: "When people talk about you, you are doing something right, otherwise people won't bother."
And her memorable TVCs were not just for Petronas. One of her early ones was the now famous "Old Newspaper" ad for Vicks. Then there's the one she did for Maybank about the Iban girl in England, where the dialogue was all in Iban. There were also memorable ads for McDonald's, Standard Chartered and TV3.
She's also done a lot of regional work and is held in high regard in Singapore. An instance is Yasmin's ad for the Singapore Community Development, Youth and Sports Ministry that came out in April.
Knowing Yasmin, she probably would have laughed at the irony of it all: The ad was called Funeral and featured a humorous yet touching eulogy from a widow (played by the doyen of Malaysian theatre Jo Kukathas). Yesterday, it was reported in the Singapore Straits Times that the campaign video had amassed more than one million online views on Facebook in three months and drawn attention from countries as far away as Spain and Africa.
One of the last TVCs she did was for a client in Vietnam, and one for AirAsia will be appearing soon. (It has been leaked on the Net and if you would like a peek, go to www.youtube.com/watch?v=Emop-VGGQ-Y.)
Tan says that Leo Burnett was approached by a client to do a commercial but Yasmin persuaded them to carry out a global initiative instead that would start in Malaysia. Tan reveals that he met the media owner client last Thursday and they hope to bring Yasmin's vision to fruition.
While Tan has many memories of Yasmin (including her yelling out "… Ah Eng ah" from afar), we each have ours. Mine is of a generous spirit that embraced her "Malayness" but just accepted everyone including herself for their "humaness".
If our conscience had a name and a voice, it probably would be Yasmin. She was our conscience both on the small and big screen.
Her ads and movies were all about us embracing our differences and celebrating the joys of living. Let's not only remember her legacy but put it into practice. Not just feel it, talk about it but actually do it.
Now, that would really be her greatest gift to the nation. Can we show the eternal optimist she was right to be one?
From:http://star-ecentral.com/news/story.asp?file=/2009/7/29/movies/4407610&sec=movies
Yasmin's footprints
By ALLAN KOAY
A retrospective of Yasmin Ahmad's work proves how the filmmaker was always at the forefront of inspiring change.
PERHAPS the person Yasmin Ahmad was most compared to, in terms of filmmaking, was Tan Sri P. Ramlee. In a country like ours where we are made up of different races, few filmmakers are able to draw multi-racial crowds to the cinemas. But both Yasmin and P. Ramlee did for every one of their films.
Last Saturday, after suffering a stroke, Yasmin succumbed to brain haemorrhage and died at the age of 51. Her departure now leaves a void in what had become a vibrant segment of Malaysian cinema.
When Yasmin first started out making films, she met with some criticism from those who thought people who worked in advertising could not, and even should not, make films. But history has always shown that this is simply inaccurate. Even Yasmin herself proudly told people that Satyajit Ray, the great Bengali master director and one of her personal favourites along with Japanese filmmaker Yasujiro Ozu, worked in advertising too.
Bold feature: M. Rajoli and Kartina Aziz in the controversial bathing scene from the made-for-TV movie, Rabun (2003)
If we were to take it as far back as when she shot anything on film for the very first time, then Yasmin's first film would be Old Newspaper, a TV commercial for a brand of cough drops. Obviously, she honed her craft from making various commercials, and most notably perfected the social commentary-type commercials with a slew of famous ads for Petronas, starting with Gombak Shoes. That ad featured Vanida Imran and Ashraf Sinclair, and was about instilling in Malaysians pride for our homemade products.
This "style" spilled over into her feature films, which were humanistic, pluralistic (a word which she actually hated) and spoke of racial equality and harmony. Often she took stabs at the establishment, questioning things like the education system. The fact that some of Yasmin's political beliefs did not seem to correlate with what she tried to portray in her films often led some to question her sincerity. Or it simply just led to confusion.
But to those who relate to her films – and her fans are many – all arguments about her sincerity are rendered null and void. When Sepet (2004) first came out, it shocked and surprised many, in more ways than one. At a time when local audiences had either largely given up on our films or were going in droves to watch one-dimensional movies purely for entertainment, Sepet was like a sudden rush of fresh air. Suddenly, here was a film that was not just poetic and multi-layered in its portrayal of a love that crossed racial boundaries, but it also had a huge amount of heart. If Sepet did not exactly rejuvenate local cinema, then it most certainly rekindled our belief that Malaysian mainstream cinema could be much more. Much, much more.
But Sepet shocked mostly Yasmin's detractors, who took issue with her "liberal" portrayal of a Muslim family. Many complained about the berkemban (women in sarung) scenes and one where actor Harith Iskandar drops his sarung. For these reasons, several cuts were requested by the censors before Sepet was approved for local release. Sepet did well at the box-office, and even better in DVD sales both here and in Singapore.
Cinematic breakthrough: (from left) Linus Chung, Sharifah Amani and Ng Choo Seong in Sepet (2004).
At this early stage, it could already be seen that Yasmin was going to create an even bigger chasm between the old and the new. Those who could not accept the changes that were coming were in danger of being left behind. The first most noticeable thing about Yasmin and her work was the irreverence for the "old guard".
It might have happened by accident at first, considering that her first feature film (although Sepet was Yasmin's breakthrough film and first cinematic release, it wasn't her first feature film) Rabun (2003), a made-for-TV movie that starred Kartina Aziz and M. Rajoli, suffered a cut too. The offending scene was one of an old couple bathing together, although there no was nudity involved.
By her third film, Gubra (2006), the irreverence was clear. In the film, a bilal (a holy man, played by Namron) is seen patting a dog and also befriending his neighbours who are prostitutes. The censored bathing scene in Rabun was also cheekily included as a TV show that Sharifah Amani's character, Orked, watches at home. Yasmin's critics had a field day with the bilal issue; little did they know that the character had been based on a real-life religious man in Indonesia.
While all this was happening, some things were changing in the landscape of Malaysian cinema, most notably pertaining to film censorship. The National Film Censorship Board was starting to loosen up, and certain types of scenes which were previously deemed no-nos were being let through. And so, Gubra was passed clean; even the scene in which actor-filmmaker Liew Seng Tat, playing a hospital patient, briefly flashes his bare buttocks, was allowed. This minor "liberalisation" of local films allowed successors to be more daring. One only has to look at later films such as Remp-It to notice this change. Malaysian cinema needed an update, and Yasmin's films had already provided the impetus.
Ma and Pa: Yasmin's parents performing Hujan in the end credits for Mukhsin (2006).
By then, some of the old guards were also trying to see things in a new way. Yusof Haslam made his own version of an interracial love story with Sembilu 2005, where a British-Chinese guy falls in love with a Malay girl (although arguably, the interracial love story has been around since 1958, with L. Krishnan's Selamat Tinggal, Kekasihku).
And when Mukhsin (2006) came along, one could arguably draw the conclusion that movies like Tentang Bulan (2006) took their cue from it. In hindsight, it was probably inevitable that others had to follow suit, especially in the wake of the box-office success of Mukhsin, which proved that a thoughtful film which is devoid of all the usual mainstream cliches and famous faces could still draw the crowds.
At the point when Mukhsin – also an international festival success, winning at the 2007 Berlin International Film Festival – took centrestage, Yasmin's detractors continued to pour on the criticisms, even though Mukhsin is her least controversial film. It is a story about innocent first love, after all, so what could be offensive about it to anyone?
Well, some quarters took offence at Mukhsin's portrayal of young children in love. Always two steps ahead, Yasmin included a cheeky little jab at her detractors in the film. When the family discovers a dead chicken courtesy of the family cat, one of them says of the cat: "Kau ni betul-betul pencemar budaya." ("You're really a corruptor of culture.") This was obviously in reference to one of Yasmin's critics who labelled her pencemar budaya.
Silence is golden: Mahesh Jugal Kishor and Pamela Chong in Talentime (2009).
It is not unusual that a filmmaker with something new to offer is often criticised and sidelined at home, and change is not something easy to accept. Yasmin's films might have been new to the general Malaysian audience, but she built upon established templates, mostly absorbing the influences of Ozu, who also used the same set of characters in the same family for his films. For Yasmin, her first four films were highly personal and featured the cinematic versions of her own family members. Her sister, Orked, and her parents, Pak Atan and Mak Inom, were regulars. Sometimes reality blends with fantasy such as in the character of her family's driver, Anwar (Yasmin's real-life driver is Anwar, who played himself in her movies).
The easy criticism is to say that her own family is always portrayed as the ideal unit surrounded by not-so-ideal others and environment. But taking into account her strong family bond, it is also obvious that every one of those four films are love letters to her family.
She was often quoted as saying she made her films foremost for her parents. Her father, a musician, composed the song Hujan for Mukhsin. Both the real Pak Atan and Mak Inom (who is a retired teacher) appear during the end credits of Mukhsin playing the piano and singing Hujan.
Such idealism most certainly rubs the wrong way against the real world which is full of imperfections and unfairness. But Yasmin herself never denied that her idealism could be "annoying" to others.
The fact is, she didn't care. As such, she was a truly peculiar personality, on the one hand advocating idealism in the cinematic world, and on the other, endorsing socio-political imperfections in the real world.
But what she did in the cinematic world has been so infectious that you tend to forgive the contradictions she represented.
Her last two films, Muallaf and Talentime, saw her moving away from her usual semi-autobiographical mode, leaving behind stories about her family. By this time, the negative voices seemed silenced, except for an occasional outburst.
And by this time too, the landscape of Malaysian cinema had been altered to some degree, partly thanks to Yasmin and her films. (Just check out the maudlin sentimentality of such films as Khabir Bhatia's Cinta.) It is also a known fact to some that Yasmin had financed and helped quite a few independent filmmakers, without taking any credit for it.
In her final days, Yasmin had begun to take her filmmaking abroad. A Japanese-Malaysian co-production, Wasurenagusa (Forget Me Not) and a Singapore production, Go Thaddeus!, about the life of the late Singaporean triathlete Thaddeus Cheong, were on her slate. Unfortunately, her fans can only wonder now, what cinematic wonders Yasmin could have conjured from those two projects.
One thing was clear, those projects would have launched her international career, probably something that was inevitable because of the recognition she had already received at film festivals abroad. Now the lights have dimmed, the cinema fallen silent, but no film is playing.
Filmography
> Rabun (2003): An elderly couple move out of the city to a village, but this exuberant and affectionate pair find that life in the countryside isn't all that pleasant after all. Starring M. Rajoli and Kartina Aziz.
> Sepet (2004): The tale of a love that blooms between a Chinese boy and a Malay girl, set in Ipoh. Stars Ng Choo Seong, Sharifah Amani, Harith Iskandar and Ida Nerina.
> Gubra (2006): A sequel of sorts, Gubra is set a few years after Orked's romance with Jason, where she is married to an older man. Running in tandem with Orked's story is another about a bilal (holy man). Starring Sharifah Amani, Harith Iskandar, Ida Nerina, Adibah Noor and Nam Rom.
> Mukhsin (2006): This is the third instalment in Yasmin Ahmad's "Orked" trilogy. It revolves around the first love of 10-year-old Orked and 12-year-old Mukhsin. Woven around this relatively simple plotline of a blossoming young romance, are scenes of Malaysian village and family life. Stars Sharifah Aryana, Mohd Syafie Naswip, Adibah Noor and Adlin Aman Ramlee.
> Muallaf (2008): A tale of three souls finding solace in religion. Starring Brian Yap, Sharifah Amani and Sharifah Aleysha.
> Talentime (2009): A simple coming of age tale set around a school competition featuring some song and dance, starring Mahesh Jugal Kishor, Mohd Syafie Naswip, Pamela Chong and Jaclyn Victor.
From:http://star-ecentral.com/news/story.asp?file=/2009/7/29/movies/4406793&sec=movies