Customer Is Always Right?
Do you agreed?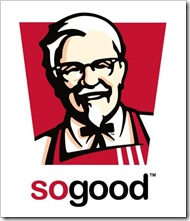 I hope KFC Malaysia – Kentucky Fried Chicken will investigate this serious incident that happen at KFC i-city, Shah Alam, Malaysia.  The KFC's staff was fighting and hitting their  customer. According to an eye witness, this incident happen around 10:30pm. 6 February 2012(Public Holiday). This incident got to do with the Groupon Voucher last minutes redemption. Read information below for more detail. 
A Hungry man is Indeed an Angry man!
Just watched the video below to find out more what exactly happen at KFC Malaysia – Kentucky Fried Chicken :
.
Pekerja KFC yang kurang ajar
.
.
KFC worker fight with customer in I-City…the customer were waited for more than 1 hour but when comes to his turn, there is NO MORE fried chicken for him… the customer request the management to apologize but the useless Store Manager doing nothing instead the worker shouted at customer – "kalau mau makan, buat sendiri lah  XXX .." ….
.
Pekerja KFC yang Kurang Ajar
.
Pelanggan memang tak marah dengan perkatan yang buruk, belia cuma cakap dia akan complaint kat I-City saja…. tetapi, ganasnya pekerja KFC tersebut, ambil besi dari dapur nak hantam kat pelanggan tu… walaupun video ni tak boleh nampak besi yang pekerja pegang tetapi boleh dengar bunyinya….
sebab-sebab video inin dirakamkan adalah untuk bukti saja… janganlah orang yang tidak berada kat situ cakapkan yang bukan-bukan; aku rasa pelanggan tersebut memang tidak bersalah, sebab aku pun tunggu lebih dari 45 minutes untuk dapatkan makanan saja dimana depan saya cuma 5 pelanggan saja…
kalau ayam dah habis, cakap je elok2 dgn customer, kita orang memang faham…
.
.
Youtube video maker gives take on KFC scuffle
.
The person behind the Youtube account Jess6366, who had uploaded two videos of iCity KFC workers allegedly assaulting a customer, today came forward to give her account of the incident.
.
.
I agreed that  customers are not always right. However, physically attacking a customer for being verbally abusive is an act of violence, totally wrong and must be avoided at all cost.  This is a criminal act. The staff  Should  NOT have taken matters into their own hands and hit their customers.
On the other hand, customers are not given the right or privileged of making bad statements, cursing or even scream or yell at the staff.
The outlet manager should have immediately stepped in at the first sign of trouble to resolve the issue in a professional manner. I'm sure the outlet manager was "trained" to tackle any complaints in diplomatic and professional way that make every of the customers like to dine in the restaurant and come back again. Probably, I'm guessing even the manager was not properly "trained" by KFC!
We paid to eat at  KFC, off course no one deserve to be treated that way. I believed customer(no one) should be treated this way and are not going to pay for this kind of treatment. Some even say KFC has become a Kentucky Fighting Club/Finger lickin good or Fighting Lagi Good, even you for the Service Tax!
I've visited few KFC's outlets and found their service is very bad and not professional at all nowadays. When I complaint to KFC, their standard answer reply "Thanks for your feedback once again Alan. We will look into this matter and rectify this with the team. Once again, thank you and have a splendid day ahead:)".  No proper follow up after that?
Reply from KFC on Facebook fan page: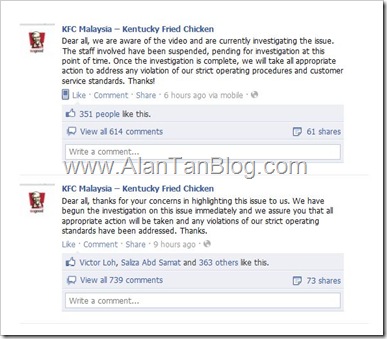 7 February 2012:
Dear all, thanks for your concerns in highlighting this issue to us. We have begun the investigation on this issue immediately and we assure you that all appropriate action will be taken and any violations of our strict operating standards have been addressed. Thanks.
8 February 2012:
Dear all, we are aware of the video and are currently investigating the issue. The staff involved have been suspended, pending for investigation at this point of time. Once the investigation is complete, we will take all appropriate action to address any violation of our strict operating procedures and customer service standards. Thanks!
9 February 2012:
1) Dear Facebook Friends: Just to update all of you. We are indeed aware of the video and we're still in the midst of investigating the issue. Once the investigation is completed, the team will take appropriate action to address any violation of our strict operating procedures and customer service standards. We will keep each of you posted on the updates of our findings. Thank you everyone for your concern once again.
2) Dear Facebook Friends:
Since being alerted to the incident, we initiated an extensive internal investigation. The individual who was directly involved has been suspended and we have lodged a police report. We have also suspended other members of the team as we attempt to fully understand what happened.
The confrontation in the video is counter to all of KFC Malaysia's values, standards and code of ethics.
KFC Malaysia has a broad and diverse employee base of about 14,000 across more than 500 outlets in Malaysia. We place respect of the relationship and trust between our customers and our employees at the heart of everything we do. We tolerate nothing that undermines this.
We conduct regular training sessions across all restaurants and all members of the team. Each of our restaurant is monitored to ensure that the quality, safety and experience, as a valued customer or an employee, is as rewarding as it possibly can be. It failed on this occasion. Aside from taking action around this incident we will build on and further improve the existing programme.
Again, THANK YOU for your concern and support of KFC.
10 February 2012:
1) To all our Facebook Friends, we hear you out and are aware of your thoughts and concern in this incident. We truly appreciate your thoughts in this matter, from the bottom our hearts. With much regrets, the incident that had taken place is still at the point of scrutiny. Updates will be posted soon. Appreciate your kind patience and understanding.
2) Friends of KFC Malaysia, first and foremost thank you for all your concern highlighted on the latest incident. Nevertheless, with much sincerity kindly hear the words from our Management. Thank you.
.
KFC Malaysia – Message from Deputy President- 10 February 2012
.
.
13 February 2012:
Dear all, we thank you for all the pouring comments and concerns you have raised towards this issue. We hear you and assure each of you that we are doing our best to handle this. Your patience and understanding is much appreciated at this point of time. Do stay tune as we update you on this issue. Thank u once again.
15 February 2012:
Dear all,THANK YOU once again on the astounding concerns you have shown across and we truly appreciate each and every of your remarks towards the latest incident.
Nevertheless, we do express our deepest regrets towards the incident occurred and soon we'll be resolving this issue as the investigation is soon coming to an end. Apart from that, we would like to urge all our dearest friends not to further speculate this issue to become racist in nature. We truly appreciate each and every of your feedback. THANK YOU ONCE AGAIN.
18 February 2012:
To all our dearest customer, fans and friends of KFC Malaysia, accordingly to the recent incident at our outlet in i-City Shah Alam on 6 February 2012 and would like to extend our sincere apologies to all our customers who were present during that day, particularly to Mr Danny Ng Chee Fei, for the unsatisfactory services rendered by our staff and the inconvenience caused.
Our Management has met with Mr Danny Ng and his family and they have accepted our apology. We deeply regret the occurrence of this incident and would like to assure you that it was related to the quality of service provided and not due to any other reason whatsoever. Rest assured, all relevant steps are being taken to review and improve our training programme to avoid the recurrence of such incidents and to provide only the best service to you.
We truly treasure all your comments which have helped us to improve our service and rectify any shortcomings.On behalf of KFC Malaysia, we thank you for your concern and continuous support.
Solving Things Amicably…From left: Mr Danny Ng and his family members together with Mr Alan Au, Deputy President, KFC Malaysia; Mr Conrad De Lima, Vice President, KFC Operations and Puan Rosniza Baharum, General Manager, Group Corporate Communications
Comment from an eye witness when the incident took place:
My family and I were there in KFC when it happened, we also queued and waited from 8pm to 10pm to get our food. The store should have informed customers if they are running out of food. To be honest a few customers were verbally abusive after having to wait for so long… and if not mistaken, this guy attacked first.
.
KFC assault victim denies provoking attack
.
The victim who was allegedly assaulted by a Kentucky Fried Chicken (KFC) staff on Monday, denied the accusation that he provoked the incident by uttering racial or discriminatory words at the fast food retailer's workers.
.
.
My comment:
This incident happen because customers bought the [40% Off] i-City: 1 SnoWalk + 1 Ferris Wheel Ride + 1 Outdoor Ride + KFC Combo Meal for RM33 instead of RM55-over 1,591 Groupon Voucher  was sold and the redemption expired of the Feb 8, 2012. So there was a big rush to claim the FREE KFC Combo Meal  since it's a public holiday and people queue for more than 2 hours untill to the restaurant's door. The KFC never expect such a big crowd to claim the food vouchers. Let KFC do their investigation for  more detail.
P/S: Why most Malaysians likes to  do thing at last minutes/days 🙁
** There is no excuse for allowed the gangsterism culture within the corporation!
The main questions now are:
Why KFC management  never  issue any apologize to the assaults victim as at 10 Feb when the incident happen on 6 Feb?
Why it takes so long for them to investigate?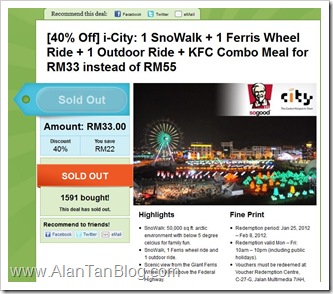 Detail of Groupon Voucher Offer:
[40% Off] i-City: 1 SnoWalk + 1 Ferris Wheel Ride + 1 Outdoor Ride + KFC Combo Meal for RM33 instead of RM55
Highlights
SnoWalk: 50,000 sq ft. arctic environment with below 5 degree celcius for family fun.
SnoWalk, 1 Ferris wheel ride and 1 outdoor ride.
Scenic view from the Giant Ferris Wheel, 100m above the Federal Highway.
KFC meal: 2 pieces of fried chicken, 1 regular Potato Wedges and 1 regular Coleslaw.
Winter jacket provided for SnoWalk.
Largest 2-tier carousel in the country.
Outdoor rides: Largest 2-tier carousel in Malaysia, Spacewalk, SuperSwing, Pirate Ship, Cross Country Bumper Car and Circus Travel.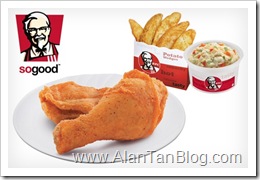 Fine Print
Redemption period: Jan 25, 2012 – Feb 8, 2012.
Redemption valid Mon – Fri: 10am – 10pm (including public holidays).
Vouchers must be redeemed at: Voucher Redemption Centre, C-27-G, Jalan Multimedia 7/AH, CityPark, i-City, 40000 Shah Alam, Selangor.
SnoWalk valid Mon – Fri: 10am – 10pm(including public holidays).
Outdoor rides valid Mon – Fri: 5pm – 10pm (including public holidays).
May buy and use many.
Voucher valid for both adults and children.
Outdoor rides valid for those 89cm and above only.
Slippers as footwear are not allowed.
Meal is redeemable strictly at KFC@i-City, A-11-G, Jalan Multimedia 7/AH, CityPark, i-City, 40000 Shah Alam, Selangor only.

Valid at i-City (03-5521 8439).




– Call from Mon – Fri: 10am – 7pm (not including public holidays)
.
i-City, The Coolest Hotspot In Town
.
SnoWalk, a 50,000 sq ft Arctic environment attraction with 100 tons of ice sculptures that were shaped by a team of 30 ice sculptors from Harbin, China. At below 5 degrees Celsius temperature and 100mm of snow on the ground, SnoWalk will be a unique family leisure attraction and the snowfall experience will be the 'piece de resistance' of SnoWalk.
.
.
KFC Malaysia – Kentucky Fried Chicken has got the publicity/attraction for wrong reason last year.
.
Malaysia KFC
,
.
Kentucky Fried Chicken Malaysia Staff with Stupid Behavior
.
Please do not post anything racism. This is not about race, this is about morality and behavior amongst Malaysian (some).
.
.
KFC Malaysia – Message from Director of Restaurant Operations
.
KFC Malaysia's Director of Restaurant Operations, En. Mohammad Alwi addresses the public and valued customers of KFC.
.
.
KFC Malaysia – Message from Director of Restaurant Operations (Bahasa)
.
.
KFC Quality Assurance:  (taken from KFC Malaysia's website)
KFC is the largest fast-food chain in Malaysia and Brunei, serving world famous Original Recipe fried chicken which contains secret blend of 11 herbs and spices. Apart from serving finger-licking good food, we continuously aim for high quality and are committed to ensure food safety by stringent control to maintain our standards.
Our Products
We cook our products well above the minimum temperature recommended by WHO. We have developed standard procedure that would minimize risk of cross contamination between raw and ready-to-eat products.
We provide information on the nutritional values of KFC products to assist our customers in planning a wholesome and balanced meal. For frying all of our products, we use non-hydrogenated palm oil that contains insignificant amount of trans fat and it is 100% cholesterol free.
We have a team of food technologists constantly experimenting with new flavors and creative concepts to provide more value, choices and healthy options for our customers. Apart from introducing international products into our market, we have also developed some popular local flavors designed to enable our customers to enjoy an exciting dining experience.
Quality control begins from the supply of all the raw materials. We conduct an annual supplier audit, namely the STAR Audit, which is a YUM proprietary programme, similar in many ways to the ISO approach. The STAR Audit comprises two versions; the Food Safety and the Quality Systems Audits. The STAR Audit is either conducted by a third party international auditing company appointed by YUM or our very own team of professional food technologists from the KFC Quality Assurance Department.
Supplier Quality
The results are reported to and reviewed by our regional franchisor for continuous improvement. Suppliers' performances are constantly monitored through regular submission of quality reports. In addition, our food technologists also conduct quarterly QA evaluations on our in-house suppliers.
We use top quality raw materials from reputable suppliers such as Nestle, UBF, Kerry Ingredients, LambWeston, Simplot, McCain and Jomalina, as well as from our in-house suppliers such as Ayamas, Region Food, KFC Bakery and KFC Commissary.
Our chicken supplier Ayamas is monitored closely by Department of Veterinary Service and has obtained the VHM (Veterinary Health Mark) Logo. It is also an ISO 9001 certified company. All Ayamas chickens are slaughtered by personnel certified by Jabatan Agama Islam Selangor to ensure Halal procedures are met.
Restaurant Quality
The main attributes for KFC restaurant excellence are CHAMPS.
C – Cleanliness
H – Hospitality
A – Accuracy
M – Maintenance
P – Product Quality
S – Speed of Service

We have a field service team of QA personnel (also known as CHAMPS Recognition Specialist) to conduct regular evaluations in every KFC restaurants throughout the country. The evaluation covers all aspects of CHAMPS including the cleanliness and sanitation of the premises and equipment, personal hygiene, hospitality/friendliness in service, accuracy in the serving order, good maintenance, product quality standards and speed of service.
Above all, we follow strict temperature control and shelf life to ensure the food served to our customers is fresh and safe.
We have a Mystery Customer Program known as CHAMPSCHECK which evaluates customers experience in our KFC restaurants. We have appointed a reputable surveillance company to check against the CHAMPS concept. Every restaurant is subjected to a visit by a Mystery Customer and the dine-in / take-away experience is evaluated and scored. KFC sets a minimum standard of 90% as passing score for this evaluation. Feedbacks taken from this evaluation is used and studied for continuous improvement in our restaurants.
KFC HACCP Programme
We have also established a Hazard Analysis Critical Control Point (HACCP) Programme for KFC restaurants. HACCP is a management system for the assurance of food safety. The process includes identifying, evaluating and controlling hazards i.e. physical, biological and chemical to ensure food safety. It is applied from receiving of raw materials at our restaurant until serving to our customers. KFC KLCC has been audited and certified by a reputable certification body since 2005. All the established Critical Control Points (CCPs) are now included in our Daily Operations Checklist which is used by all the KFC restaurants in the country.
Sanitation / Personal Hygiene
Our daily operations manual clearly highlights each step of the sanitation procedure to ensure strict compliance to the KFC requirement. Each staff has to undergo the Food Handler's Course conducted internally by KFC which is recognized by the Ministry of Health.
We have implemented a handwashing procedure to ensure each staff washes his/her hands at least once every hour and whenever necessary. The procedures include wetting hands first, then rubbing the hands together, fingers between fingers, around the wrist and up to the elbow with liquid antibacterial handsoap, for 30 seconds. Then the hands are rinsed with clean water under the hands-free tap, and dried with single-use paper towels.
No bare hands are allowed to touch any finished products. Instead, we constantly stress on the importance of using disposable gloves, sanitized scoops or tongs.
All our restaurant teams including managers are immunized against Typhoid upon employment.
Pest Control
Due to the encouraging conditions in the tropical climate, pest control is indeed a challenge. However, we relentlessly continue to maintain our standards and have engaged reputable pest control companies to assist us in this matter.
The trained service teams conduct regular inspections which include night treatment after operation hours and also provide follow-up checks during operation hours whenever needed, in every restaurant. There is a detailed checklist to ensure that no steps are missed. All pesticides are approved by Pesticide Board and have Material Safety Data Sheet on file for staff reference. Each pest control company will present periodic trend reports of pest activity to the management for corrective actions and remedy.
The total cost for all the services nationwide is approximately half a million ringgit annually.