I got my FREE ticket to T Harv Eker's Millionaire Mind Intensive program which is held in Kuala Lumpur from 17 to 19 June 2011 at PWTC, Kuala Lumpur via post.
I'm sure you got yours too if you sign up here Free Ticket to T Harv Eker Millionaire Mind Intensive Program | Free Seminar
Thanks to Success Resources!
Since my ticket is free and on General Seating, no material was included.
I guest the material would be the same like in the past year.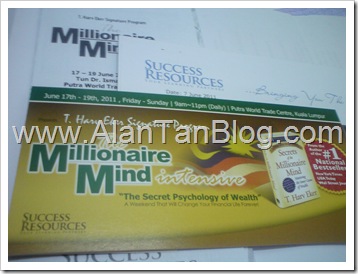 It's good to go back to T Harv Eker's Millionaire Mind Intensive program in order to refresh ideas learned and networking purposes.
You'll see and meet a lot people from all walk of industries range from Direct Sales, Multi Level Marketing, Unit Trust, Insurance Agents to Sales and Marketing.
What I understand for this year T Harv Eker's Millionaire Mind Intensive program, T Harv Eker would  NOT be here as it was conducted by his best student.
You'll definitely learn something on making positive changes to your financial lives with T. Harv Eker's Millionaire Mind Intensive programme at PWTC, Kuala Lumpur this weekend
My friend have strongly advised me to leave my credit card at home as the speaker is going to market T. Harv Eker's signature programme that cost range from RM3,000 to RM25,000(Quantum Leap programme)
My friend who attended the Quantum Leap programme, highly recommend  it to everyone who got budget.
See you at T. Harv Eker's Millionaire Mind Intensive programme!
Why You Should Listen to T. Harv Eker
From Zero To Millionaire In Only 2 1/2 Years!
Using the principles he teaches, T. Harv Eker went from zero to millionaire in only 2 1/2 years! He combines a unique brand of 'street-smarts with heart'. T. Harv Eker is the founder and president of Peak Potentials Training, the fastest growing personal development company in North America.
Harv's high-energy, 'cut-to-the-chase' style keeps his audience spellbound. His motto is "talk is cheap" and his unique ability is getting people to take "action" in the real world to produce real success.
Harv is also the author of the best-selling books, Secrets of the Millionaire Mind and SpeedWealth. He has also developed several highly-acclaimed courses such as The Millionaire Mind Intensive, Life Directions, Wizard Training and Train the Trainer. He is also the producer and trainer of the world-famous Enlightened Warrior Training.
.
Harv Eker on FOX NEWS
.
.
EVENT VENUE & TIMES:
Tun Dr Ismail Hall, Level 2, PWTC, Kuala Lumpur, Malaysia
Friday, 17 June 2011, 9am – 11pm
Saturday, 18 June 2011, 9am – 11pm
Sunday, 19 June 2011, 8am – 7pm
SEATING ARRANGEMENT
The Seating Category (VIP/Premium/General) printed on top of the ticket indicates your seating section.
Free seating applies only within your seat category.
ATTIRE
Business Wear or Smart Casual. Please dress comfortably, making sure you bring a sweater to each session, as the temperature in the conference rooms can fluctuate.
RECORDING/TAPING
NO taping or recording of any session is allowed.
MEAL
There will be breaks for all participants. Food can be purchased within the event venue. No food or drinks are allowed in the hall except bottled drinks.