I just got the official invitation for the Dinner with the Prime Minister and Online Friends.
This was postpone last time.
Read more at  Alan Tan To Have Dinner With The Prime Minis­ter Datuk Seri Najib Tun Razak and Online Friends
Yes…I'm going 🙂
See you there!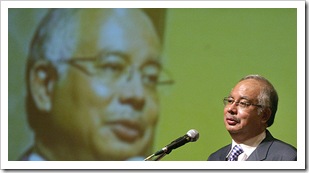 Encik Alan,
Salam 1Malaysia!
Anda dijemput hadir ke Majlis Minum Petang 1Malaysia bersama Perdana Menteri dan Rakan-rakan Online pada Ahad, 20 Febuari 2011 pada jam 4 hingga 6 petang di:
Kediaman Rasmi Perdana Menteri
Kompleks Seri Perdana
Presint 10, Persiaran Seri Perdana
62250 PUTRAJAYA
Pakaian: Smart-Casual
Anda juga dijemput untuk mengajukan satu soalan kepada saya untuk sesi dialog semasa majlis ini.
Sila hantarkan jawapan hadir/tidak hadir serta soalan anda melalui emel ke admin@1malaysia.com.my selewat-lewatnya 31 Januari 2011.
NAJIB RAZAK
Jemputan ini adalah untuk anda sahaja dan tidak boleh ditukarmilik.
Jika anda tersalah terima e-mel ini atau bukan penerima yang dimaksudkan, sila maklumkan dengan menjawab emel ini.