Looking to Buy Notebooks and Personal Computers?
.
Need to Upgrade to the Latest ATi Technologies Inc Graphic Cards?
.
Wish  to Get a Social Networking-Enabled Smartphones, Great Mobile Broadband Subscription Offers, Digital Cameras Fitted With Micro Four-Thirds Systems, Android And Bada-Powered Smartphones, Liquid Crystal Display Monitors With 3D-Ready, High Definition Functionality And Many More?
.
The most awaited and anticipated popular tech cash-and-carry event, Pikom PC Fair 2010 (II), is Back! 🙂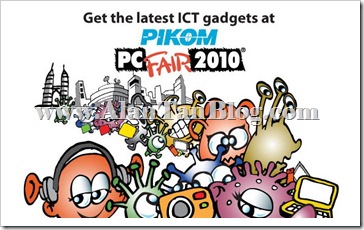 You can expect to get a great on  new Intel Core i5 and Intel Core i7 powered notebooks, new graphic cards from ATi Technologies Inc, Nvidia Corp and MSI Computer Corp, a fresh range of compact digital cameras to geotagging, social networking-enabled smartphones.
For digital cameras fans, do expect special bundling packages for this year's new generation of digital cameras fitted with micro four-thirds systems, Android and Bada-powered smartphones, liquid crystal display monitors with 3D-ready and  high definition functionality.
Special introductory offers and special bundling packages for mobile broadband subscription and broadband subscription also will be Available at Super Crazy price!
According to the Association of the Computer and Multimedia Industry of Malaysia (Pikom) in a press statement released on April 2010, this year PC Fair 2010 would be held twice  instead of the usual three and the traditional PC Fair in December has been cancelled.
Therefore this PC Fair 2010 (II)  will be the last for this year!
Read the Pikom chairman, C.J. Ang,  press statement at PIKOM PC Fair 2010 Is Back
.
PIKOM PC FAIR
.
.
PC Fair 2010 (II) will be organised in six legs spanning 15 venues in 10 states.
This round the PIKOM expect as many as 600,000 shoppers. The last PC Fair which was held earlier this year and attracted a total of 895,000 shoppers
The fair starts its first leg on from from July 2-4, at Dewan Masyarakat, Tawau in Sabah and the second leg a week later, from July 9-11, at Alor Setar Mall, Kedah, and Persada Johor International Convention Centre in Johor Baru, Johor. Approximately 199 exhibitors occupying 281 booths will be participating in these two legs.
In the following week, the third leg continues and will be held at three venues; from July 15-17, at KB Mall in Kota Baru and Terengganu Trade Centre in Kuala Terengganu, and July 16-18, at Batu Pahat Mall. As many as 159 exhibitors have confirmed their participation at these three venues.
The fourth leg will see the fair being held from July 30 to August 1, in four venues – Berjaya Megamall in Kuantan, Penang International Sports Arena, Dewan Merdeka in Seri Manjung and Melaka International Trade Centre. This leg will have 429 participating exhibitors in 559 booths and it expected 177,000 shoppers at the four venues.
However, the heart of the fair lies is in the fifth leg, which has the largest number of participating exhibitors at 479 occupying 928 booths. This leg will be held from August 6-8 at four venues: LG Exhibition Hall, 1Borneo in Kota Kinabalu, Kuala Lumpur Convention Centre in Kuala Lumpur, Village Mall in Sungai Petani, Kedah, and Dewan Jubli Intan in Muar, Johor. A massive 300,000 shoppers are expected.
The fair continues with its sixth and last leg from Aug 27-29 at Stadium Indera Mulia in Ipoh with 84 exhibitors occupying a similar number of booths.
In total, the fair will have 1,272 exhibitors in 1,936 booths. The popularity of the fair, which celebrated its 10th year in 2006, has improved judging by the increasing number of shoppers and remained largely intact despite facing numerous challenging economic periods. The fair enjoys a good reputation as a valuable platform for consumer ICT products and services, helping shoppers stretch their wallet and increase their purchasing power while taking advantage of numerous promotional offers and best buys.

.
PIKOM PC Fair 2010 (II) Venues and Dates
.
2 – 4 July 2010
Dewan Masyarakat, Tawau, Sabah
9 – 11 July 2010
Persada Johor International Convention Centre, Johor Bahru, Johor
Alor Star Mall, Alor Star, Kedah
15 – 17 July 2010
KB Mall, Kota Bharu, Kelantan
Terengganu Trade Centre, Kuala Terengganu, Terengganu
16 – 18 July 2010
Batu Pahat Mall, Batu Pahat, Johor
30 July – 1 August 2010
Penang International Sports Arena (PISA), Penang
Berjaya Megamall, Kuantan, Pahang
Melaka International Trade Centre (MITC), Melaka
Dewan Merdeka, Seri Manjung, Perak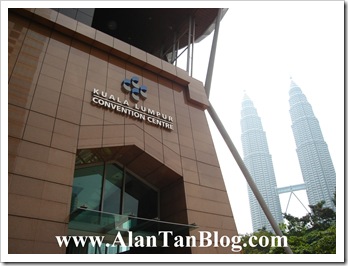 6 – 8 August 2010
Kuala Lumpur Convention Centre, Kuala Lumpur
Village Mall, Sungai Petani, Kedah
1 Borneo, LG Car Park Exhibition Hall, Kota Kinabalu, Sabah
Dewan Jubli Intan, Muar, Johor
27-29 August 2010
Stadium Indera Mulia, Ipoh, Perak
So Do Not Miss Out this  Largest and the Most Popular Consumer Information and Communications Technology (ICT) Fair-PIKOM PC Fair 2010 (II), in Malaysia!