Now you can learn gun shooting at City Square Shooting Gallery even you got no gun shooting license.
I done my gun shooting lesson on 30 July 2011 at City Square Shooting Gallery, 9th Floor, Menara TKSS, 206, Jalan Segambut, 51200 Kuala Lumpur, Malaysia.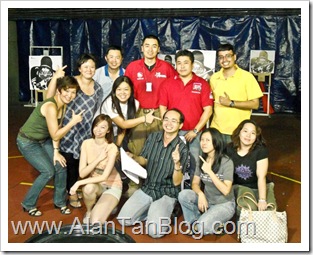 All I know City Square Shooting Gallery was the first and finest indoor handgun shooting range in Malaysia.
They  have relocated to the Segambut Area and have reopened since 23 August 2010.
.
City Square Shooting Range-Budget Travellers-30/7/2011
.
.
Do take this opportunities to learn about this special sport or just learn to use a firearm. You can save a lot of time and money as you do not need to travel to Thailand in order to hold a Gun!
Everyone especially new shooters and families are always welcome at their facility.
They will teach this sport in a very safe and enjoyable environment.
Safety is their number ONE concern at all times.
Thanks to Kelvin and the teams for their kind assistance on the gun shooting lesson.
Alan Tan showing off his Glock 17 🙂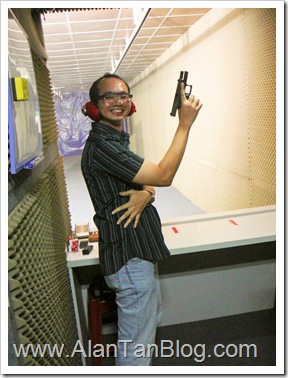 About Glock 17
The Glock 17 is the first model produced by Glock. It's one of the company's full size pistols, chambered in 9 mm. Even though it's a full size pistol, it weighs just 22.04 ounces unloaded, making it one of the most comfortable full size carry pistols you can buy.
The model 17, like all Glock pistols, has Glock's patented "Tennifer" finish on all metal parts. Tennifer is much more wear and corrosion resistant than the nitrate, blued or other finishes found on other brands of pistols, and has a resistance to salt water that actually exceeds that of stainless steel. The Tennifer finish is then black parkerized for appearance.
The frame on all Glock pistols is polymer, which is not only corrosion-proof, but also reduces the weight of the pistol substantially.
The model 17 accepts 10 round, 17 round, 19 round and 33 round magazines, although several states restrict the sale of magazines over 10 rounds.
Glock pistols have three safeties: a drop safety, a firing pin safety, and a trigger safety. It's the trigger safety that is operated by the user, and is done so by simply depressing the safety lever located in the middle of the trigger. Current models also have a built in trigger lock that is activated and deactivated with a key.
City Square Shooting Gallery Operation Hours:
Monday – Saturday 1100 to 2000 hours
Sunday. 1430 to 2000 hours
Closed on Tuesday & major public holidays
Location:
City Square Shooting Gallery,
9th Floor, Menara TKSS, 206, Jalan Segambut,
51200 Kuala Lumpur, Malaysia.
The GPS Coordinates is N03° 10′ 56.6" E101° 40′ 35.9".