There were a lot of talk about Kedai Rakyat 1Malaysia(KR1M) recently. It has attract many views from the Government, Media, public and opposition parties.
At this moment, Kedai Rakyat 1Malaysia was run by  Mydin Mohamad Holdings Berhad and Mydin Mohamad Holdings  will be sole producer of the "1Malaysia" brand of products.
Undertaken by Mydin Mohamed Holdings Berhad, the 1,000 items on sale — which are said to be cheaper by 30 to 40 per cent compared with market prices — are going to be very attractive.
MYDIN as the operator of 'Kedai Rakyat 1 Malaysia' provides assistance in fit-out works, equipments and racking installation, supply chain management, IT support for Point of Sales (POS) system, retail and technical expertise as well as training.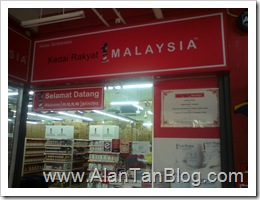 In summary, Kedai Rakyat 1Malaysia is a thrift store that operate in a mini market format, that sold various basic necessities at much low prices than the usual brands.
This is a good initiative as the price of every basic necessities(virtually everything due to inflation) has increase compare to minimal increase in salary income.
The inflation rate was not in proportion to the escalating high cost of living, so it would ease the burden of inflation and directly benefit the rakyat.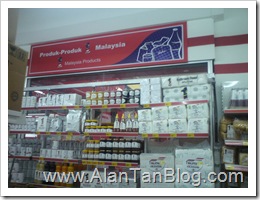 Our Prime Minister YAB Dato' Sri Najib Tun Razak introduce this smart initiative of KR1M in order for the public(Rakyat) especially to the low income citizens who stay in the urban areas, to ease the people's burden and to  get various basic necessities at low prices.
This well in line with the slogan "Rakyat Didahulukan"(People First), which has been mooted by YAB Prime Minister himself. Najib said that as the country marched towards becoming a developed nation, the Government still ensured the people were taken care of.
It was reported that the government subsidies are up by RM10 billion in order to create and introduce Kedai Rakyat 1Malaysia (KR1M) and the Menu Rakyat 1Malaysia concepts.
The first KR1M outlet opened at the Kelana Jaya LRT station in Petaling Jaya in June 2011. There are now six KR1M outlets and 22 more are slated to open in 2012.
.
Kedai Rakyat 1Malaysia.
.
.
According to Domestic Trade, Cooperatives and Consumerism Minister Datuk Seri Ismail Sabri Yaakob, over 20 more Mydin-run KR1M stores would be opened nationwide by the end of the year and another 60 were targeted for next year.
Do take a visit to Kedai Rakyat 1Malaysia to do your shopping.
I have visited Kedai Rakyat 1Malaysia at Bandar Tun Razak. It was located in a very easy to access point as it was merely a walking distance from STAR LRT Station-Bandar Tun Razak
Please remember to shop wisely as NOT all items were in Low Prices! (as cheap as they are claimed to be)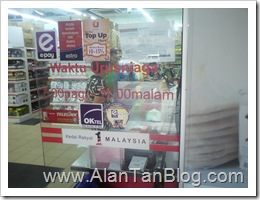 Kedai Rakyat 1 Malaysia Opening Hour:
.
KR1M Kedai Rakyat 1Malaysia (English Version) – GTP Government Transformation Programme.
.
Infomercial video on KR1M Kedai Rakyat 1Malaysia by GTP Government Transformation Programme.
,
.
Lab test shows bacteria in 1M'sia milk, say Pakatan MPs
.
DAP national publicity secretary Tony Pua today revealed that fresh milk sold at the Kedai Rakyat 1Malaysia (KR1M) were allegedly tainted with E ccoli.
This, he said, was based an independent lab test on the product commissioned by Pakatan Rakyat.
E coli or Escherichia coli is a living bacterium that can exist in food that has not been cooked well enough and can cause serious illness or even death.
.
.
KR1M Kedai Rakyat 1Malaysia (Versi BM) – GTP Program Transformasi Kerajaan
.
Video infomercial daripada tentang KR1M Kedai Rakyat 1Malaysia daripada GTP Program Transformasi Kerajaan.
.