PETRONAS Chemicals Group Berhad (PCG) is the Top integrated petrochemicals producer and one of the largest in the South East Asia.
This Initial Public Offer(IPO) will be the biggest in South East Asia for 2010 which expected to raise capital of  RM3.5 billion from its offering of 2.48 billion shares with retail shares offered at RM5.05.
It was reported that PCG also said it was studying the possibility of developing a world-scale, greenfield ammonia and urea production facility that would be supplied with natural gas feedstock available off the east coast of the peninsula.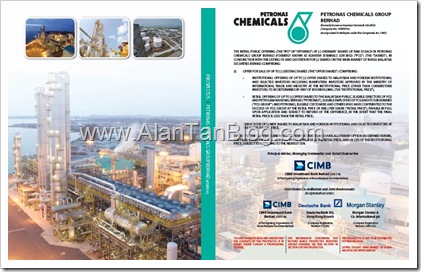 This IPO is must apply because PCG is backed by PETRONAS group, which also owns other 4 Public Listing Company units:
i) MISC Bhd
ii) Petronas Dagangan Bhd
iii) Petronas Gas Bhd
iv) KLCC Property Holdings Bhd
PCG can also leverage and have a very strong support from the parent company.
This stock will be a core holding stock for every fund manager as PCG would be a component of the Kuala Lumpur Composite Index (KLCI).
The listing of privately-held government-linked companies (GLCs), such as Petroliam Nasional Bhd's (Petronas) units Malaysia Marine and Heavy Engineering Holdings Bhd (MHB) and Petronas Chemicals Group Bhd (PCG), was a step taken by Malaysia Government to boost market liquidity and to attract many quality  Foreign Direct Investment(FDI).
PCG plans to distribute 50% of its net profit for each calendar year starting from year ending 31 March 2011.
I do expect it will be oversubscribed by looking at a trend that last week's listing of Petronas' other subsidiary, Malaysia Marine and Heavy Engineering Holdings Bhd (MHB) which were oversubscribed 27.7 times for its institutional offering.
Applying for IPO is like gambling for two reasons.
First you cannot guarantee your application success when the issue oversubscribed via balloting.
Second, even  you successful get the IPO, the opening price may be lower than offer  price.
So manage your expectation correctly as not all IPO will make you money.
You may apply the IPO via filling out the form, ATM or Internet Banking.
You may also check  your IPO result at the Issuing House web site.
—————————————————-
Share Issue Number : 502
Share Name : PETRONAS Chemicals Group Berhad (PCG)
Issuing House : Malaysian Issuing House Sdn Bhd (MIH)
Unit Price : RM5.05
Minimum Unit : 100
Par Value (RM): 0.10
Board : Main Market
Sector : Industrial Products
Listing Schedule
Prospectus Date     01/11/2010
Opening of Applications     01/11/2010
Closing of Applications     09/11/2010
Tentative Balloting Date     12/11/2010
Tentative Allotment Date     24/11/2010
Tentative Listing Date     26/11/2010
Closing date is tentative and may subject to  change. Any changes to the above schedule will be announced in a widely circulated Bahasa Malaysia and English daily newspaper within Malaysia.
* The Final Retail Price will be determined after the Institutional Price is fixed on the Price Determination Date, tentatively on 12 November 2010 and will be the lower of the Retail Price of RM5.05 per Share and 97% of the Institutional Price, subject to a refund in the event that the Final Retail Price is lower than the Retail Price of RM5.05 per Share.
From the 1.78 billion existing shares offered under the IPO, 1.48 billion shares are for Malaysian and foreign institutional investors as well as bumiputra investors, while the retail offer of 293.02 million shares covers the Malaysian public, eligible directors of PCG and Petronas, eligible employees and customers. The 700 million new shares offered are for Malaysian and foreign institutional investors.
The principal adviser, managing underwriter and joint underwriter is CIMB Investment Bank Bhd. The joint global coordinators and joint bookrunners for the institutional offering are CIMB, Deutsche Bank AG, Hong Kong Branch, and Morgan Stanley & Co International plc.
The joint underwriters for the retail offering are Affin Investment Bank Bhd, HwangDBS Investment Bank, Alliance Investment Bank Bhd, KAF Investment Ban Bhd, OSK Investment Bank Bhd, AmInvestment Bank Bhd, Maybank Investment Bank Bhd, Public Investment Bank Bhd, ECM Libra Investment Bank Bhd, MIDF Amanah Investment Bank Bhd, RHB Investment Bank Bhd, Hong Leong Investment Bank Bhd and MIMB Investment Bank Bhd.