As expected, the  spectacular euphoria rise in the penny shares of timber products maker Harvest Court Industries Berhad, in which Mohd Nazifuddin Najib, the son of Prime Minister Datuk Seri Najib Razak, has a stake, has prompted Bursa Malaysia to suspend the stock due to excessive speculation. It rose to reach its highest since May 2000 and was the highest in more than nine years in Kuala Lumpur trading.
The stock price of Harvest Court Industries Berhad make an impressive jumped as much as 535% in the last two weeks since Mohd Nazifuddin Najib, joined the board on 28th October 2011.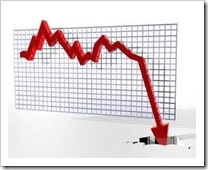 The stock was always traded below 10 sen and hardly move at all  until mid-October 2011. Before Nazifuddin joined the board, the share price hit 40 sen up. Ever since, the price sky rocket to as high as RM2.14 and closed at RM2.13 yesterday.
Harvest court mother shares were untraded(suspended with effect from 9am to 5pm, Tuesday) at RM2.13 and the warrants were untraded at RM1.81 a share today. 
Let's take a quick snapshot on the share price movement.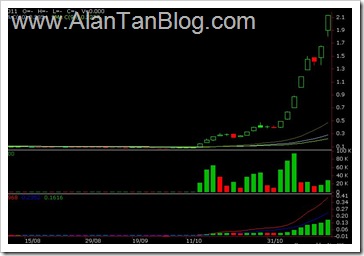 Bursa Malaysia has declared HARVEST (9342) and HARVEST-WA (9342WA) as "DESIGNATED SECURITIES" with effect from 9.00 am, Wednesday, 16 November 2011 until further notice, due to excessive speculation. This measure is necessary and has been taken in the interest of ensuring a fair and orderly market.
With the designation, trading in the counter continues but investors will require payment upfront before buying and a free balance of securities before selling. 
This would mean that trading of HARVEST and HARVEST-WA are subject to the following conditions:
1) Sale
Delivery before sale basis, i.e. you must have FREE shares in your CDS account before the sale is permitted.
With reference thereto, investors who bought the affected shares on and before 11/11/11 will be able to sell their shares from 16/11/2011 and thereafter. As for investors who bought the shares yesterday, 14/11/11, you will only be able to sell your shares from 17/11/11 onwards.
2) Buy
Imposition of 100% Cash Upfront, i.e. clients who wish to buy the affected shares must have sufficient cash in their account before the purchase is permitted. This means no Contra trading was allowed
In the announcement to Bursa Malaysia, Harvest Court said last Friday that it has accepted an award to construct commercial and residential developments for Sagajuta.
Nazifuddin is Najib's second son from his first marriage. Najib divorced Tengku Puteri Zainah Tengku Eskandar in 1987 before marrying Datin Seri Rosmah Mansor with whom he has two children.