Petronas Chemicals Group Bhd expected to have a strong debut when listed today at Bursa Malaysia Securities.
This initial public offering (IPO) would be the largest in Southeast Asia and will  set to outshine other big-capitalised firms on Bursa Malaysia Securities.
I would expect it'll open between a  range between RM5.60 and RM5.80 on its first day of trade. Maybank IB Research believes the share prices for Petronas Chemicals Group Bhd (PCG), worth between RM6.64 and RM6.70 per share, using discounted cash flow and price earning ratio (PER) valuation metrics.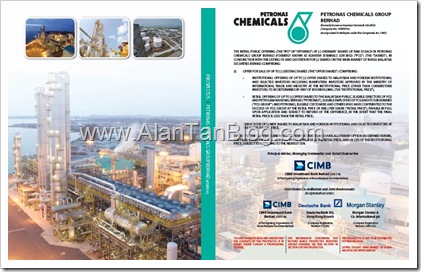 The retail investors paid RM5.04 per share while institutional investors paid RM5.20 per share under this  Petronas Chemicals' initial public offering (IPO).
Petronas Chemicals Group Bhd is involved primarily in manufacturing, marketing and selling a diversified range of petrochemical products, including olefins, polymers, fertilisers, methanol and other basic chemicals and derivative products. It consist a group of 22 companies involved in the production of diversified chemical products
Company Name: Petronas Chemicals Group Berhad
Principal  Adviser :  CIMB Investment Bank Berhad
Listing Date : 26 November 2010
Market Sector : Industrial Products
Short Name :  PCHEM
Stock Code:  5183
CIMB Investment Bank Bhd, the principal adviser and managing underwriter, has been designated as the so-called stabilising manager for the IPO and would carry out its mandate to keep the stock stable for a maximum of 30 days post listing.
The principal adviser will buy up to 372 million shares in the company from the open market to stabilise the stock post listing.
Therefore, do expect the Petronas Chemicals Group Bhd's stock price to be not volatile moving.
On today  as well, Petronas Chemicals Group will be added to the FTSE Bursa Malaysia KLCI with a shares in issue total of 8,000,000,000 and an investabilty weighting of 30%.  At the same time,  Berjaya Sports Toto as Berjaya Sports Toto (Malaysia, Constituent) (1562, 6331566) will be deleted from this  index.