MSM Malaysia Holdings Bhd, the sugar refining unit of Felda Global Ventures Holdings Sdn Bhd,  made an impressive debut  on the Kuala Lumpur stock exchange(Bursa Malaysia) today.
Trading of MSM Malaysia Holdings Bhd's shares on Bursa Securities on a ready basis commenced at 9am on June 28, 2011, under the stock name 'MSM' and stock code '5202'.
The price at debut jumped by over 30 percent in the morning session of trading on Bursa Malaysia on June 28.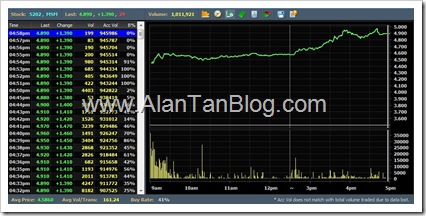 It start traded at RM4.42 which surged 26% and up by RM0.92  at 9 a.m. local time on Tuesday.
MSM Malaysia Holdings Bhd ended RM1.39 higher at RM4.89 with 101.192 million shares exchanging hands.
I expect the stock price of MSM Malaysia Holdings Bhd to see some more upside potential since it's a good defensive stock that loves by most fund managers.
MSM Malaysia Holdings Bhd sold shares to institutional investors at RM3.50 each and to individual investors at RM3.38 apiece in its initial public offering.
It was reported that MSM Malaysia Holdings Bhd's net profit for the first quarter ended March 31 increased by 416.5 per cent to RM62.2 million, mainly due to the rise in sales and higher prices of refined sugar products.
Group revenue for the quarter rose to RM503.2 million against RM497.8 million previously. The group raised some RM422.5 million from its listing exercise.
The proceed of the listing would be used mainly  for capital expenditure and working capital requirements. CIMB Investment Bank acted as the principal adviser and sole global co-ordinator for the offering.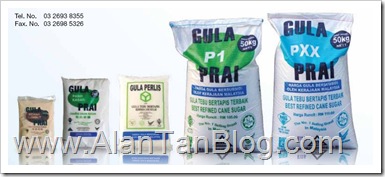 MSM Malaysia Holdings Bhd is the country's biggest sugar refiner  with a production capacity of 1.1 million. It controls more than half of the local sugar market.
MSM Malaysia Holdings Bhd is a subsidiary of Felda Global Group, the commercial arm of Malaysia's Federal Land Development Authority (FELDA). FELDA is the world's largest estate owner which helps rural settlers to develop plantations of agricultural commodities such as palm oil and rubber. It supports the operations of 811,140 hectares of plantations under Felda.
If you have missed the MSM Malaysia Holdings Bhd, don't worry as they'll another upcoming mega IPO – Bumi Armada Berhad! 🙂