LCL Corp Bhd, a Malaysian interior design company, may fall to psychological 20 sen vs yesterday's close at 23 sen (+53.3%), in knee-jerk reaction to statement to Bursa from troubled interior fit-out firm that lender Royal Bank of Scotland issued notice withdrawing facilities totalling MYR40.2 million to unit LCL Furniture.
LCL Corp Bhd was severely affected by the financial turmoil in Dubai and plunging property prices had resulted in delay and non-payment of its receivables.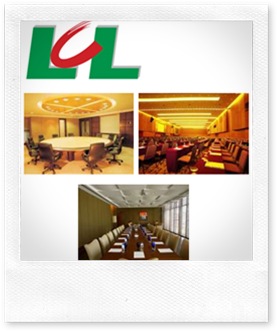 Due to high exposure to Dubai property market,  LCL Corp Bhd's stock price had fallen more than 55% since early November; in December, company says "severely" affected by Dubai turmoil, defaulted on MYR72 million of loans from Affin Bank and Bank Islam. Net debt as at Sept 30 stood at RM376 million with net gearing at 4.7 times.
Read more on Dubai debt crisis at Dubai World Crisis Brings Down the World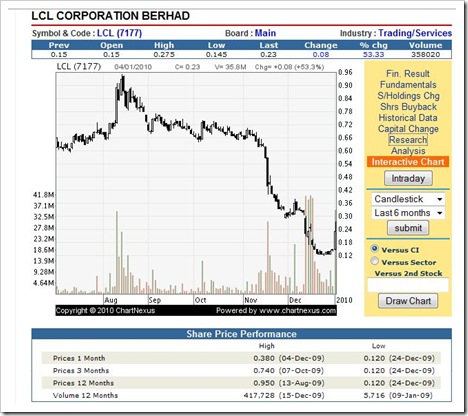 LCL Furniture has been in the spotlight after it received a public reprimand from Bursa Malaysia for delaying its submission of financial statements. It had breached listing requirements for failing to submit the company's annual audited accounts for the financial year ended December 31, 2008 on or before April 30, 2009.
LCL Furniture also has  offered so much potential two to three years back but its operations and balance sheet were hit hard after working conditions in Dubai deteriorated rapidly in the aftermath of the 4Q08 property crash.
Beside LCL Furniture, other main contractors in Dubai, including the Korean and Japanese contractors also become a Victim and hit by the Dubai debt crisis.
Given the financial developments in Dubai, analysts don't think it will be able to recover its debt payments anytime soon.
Dubai on Monday officially inaugurated the centerpiece of its decade-long construction boom, with the surprise revelation that the world-beating 168-story skyscraper in a glitzy ceremony
'
The tallest building in the world Burj Dubai 2010, celebration opening ceremony biggest
.
.
LCL Corp notified over plans to cancel loan to unit
.
Debt-ridden LCL Corp Bhd (7177), whose share price shot up by 53 per cent yesterday, said it received notice from The Royal Bank of Scotland Bhd (RBS) over plans to withdraw and cancel loan facilities that were granted to its unit.
LCL told the stock exchange after the market closed yesterday that its unit LCL Furniture Sdn Bhd, which is under receivership, had received the notice last Thursday as it was in arrears of RM40.2 million.
The notice came from Messrs Skrine & Co on behalf of RBS. About RM19.5 million of the arrears were guarantee/bond facilities, while the rest was an overdraft facility.
Besides RBS, LCL Furniture also owes Affin Bank Bhd and Bank Islam Malaysia Bhd, bringing its total arrears as at the end of last year to RM112.2 million.
LCL, which last month slipped into Practice Note 17 (PN17) status, denoting its financially troubled position, also announced late yesterday that its board of directors was considering and formulating a plan to regularise its financial condition.
It said it has another 11 months to submit such a plan to the authorities for approval.
Prior to the two announcements, the stock soared by 8 sen to 23 sen on speculation that it might have made headway in its regularisation plan. It was the fifth most actively traded counter.
Dealers said the interest in LCL also came about after a run-up in another PN17 firm, Ho Hup Construction Co Bhd.
Ho Hup jumped 58 per cent to RM1.40 after its shareholders approved two land sales and on talk that it would start a big property project.
Other PN17 firm, such as Talam Corp Bhd (up 10 per cent) and Oilcorp Bhd, (up 26 per cent) were also among the top 20 most actively traded stocks yesterday.
Analysts believe it will take time for LCL to make progress with its debt restructuring or to find a white knight to come in.
Managing director and founder Datuk Low Chin Meng, when contacted, said he did not know the reason for the spike in share price.
He also denied market talk that he might have bought back shares in the company yesterday. "No such thing," he told Business Times.
Low had last year sold off all his shareholdings to help pay off the company's debts. CIMB Islamic Bank Bhd also force-sold 16 million of his shares that had been pledged as security against financing.
LCL Furniture, a victim of the Dubai debt crisis, had defaulted on payments on its credit facilities after a plunge in property prices there resulted in non-payment by clients.
from:btimes.com.my/Current_News/BTIMES/articles/nolow/Article/index_html
LCL boss: I sold 28m shares to help firm repay bank loan
.
LCL Corp Bhd's (7177) chairman Datuk Low Chin Meng progressively sold some 28 milion shares a month before major subsidiary, LCL Furniture Sdn Bhd, defaulted in its payment of credit facilities.
"I had instructed for the shares to be sold to help the company pay its loan facilities," Low told Business Times when contacted yesterday.
The move however, did not help steer the group away from defaulting on its loans. The group is now in PN17 status.
LCL Furniture is currently under receivership.
Low raised some RM16 million in the open market through the disposals.
While he has no plans of leaving the group, he would be compelled to adhere to the wishes of shareholders and board members, if they want him to leave. There have been no calls for him to do so yet.
With his own disposals and CIMB Islamic Bank Bhd force-selling 16 million shares belonging to him last Monday, Low no longer owns shares in the interior fit-out company he co-founded 24 years ago.
"Our company still has cash flow, its a little stream that helps us to go about with our job, it's not a cascading waterfall, which is what the banks want," LCL Corp chief executive officer Paul Lim Pang Kiam said after the group's extraordinary general meeting (EGM) in Selangor yesterday.
The EGM was convened to approve a change in auditors for the group to Messrs UHY Diong, with the resignation of Messrs Ernst & Young. The resolution was approved in the meeting, which lasted about 20 minutes.
The company is currently engaging all its lenders and creditors proactively to seek an amicable solution and a way out to resolve the critical issues, which includes a global debt- restructuring scheme.
Lim said despite the board's best efforts of proactively coming up with a debt-restructuring scheme and explaining the situation to their creditors, they could not stop LCL Furniture from going under receivership.
"By pulling the plug, first and foremost, our reputation has been affected. This has set us back and we may have to start from (ground) zero," he said.
The board of directors of LCL group is currently working with the receivers and managers to resuscitate the company.
"We are currently also actively engaging our Dubai clients (on getting payments back on track)," Lim said.
Jobs in Dubai make up about 80 to 90 per cent of LCL Corp's revenue.
from:btimes.com.my/Current_News/BTIMES/articles/lcl17/Article/
LCL listed as PN17-status firm
.
LCL Corp Bhd (7177), the interior fit-out specialist that defaulted on loans as a result of the Dubai debt crisis, has sunk into Practice Note 17 (PN17) status.
"LCL is considered a PN17 company… as the company is unable to provide a solvency declaration to Bursa Securities," it said in a filing with the stock exchange yesterday.
The company said its board of directors would come up with a plan to improve its financial condition. The debt-ridden company has a year from now to submit the plan to regulators.
LCL has so far defaulted on RM69.4 million worth of loans due to Affin Bank Bhd and RM2.6 million to Bank Islam Malaysia Bhd, as it faces difficulty collecting payments for big jobs it had done in Dubai.
Given the financial developments in Dubai, there is "heightened uncertainty" as to the extent of the debts it can recover from the Dubai segment, it said. Analysts don't think it will be able to recover its payments anytime soon.
"The company may face financing and legal challenges in the near term, including but not limited to, legal proceedings initiated by lenders and trade creditors," LCL said.
The stock was at its most active ever yesterday after CIMB Islamic Bank Bhd force sold 16 million shares belonging to LCL's managing director, Datuk Low Chin Meng.
The shares, which represented his remaining 11.2 per cent stake in the company, had been pledged by Low as security against financing.
LCL's shares rose 8.7 percent to 25 sen on some 41.8 million shares. Two market days earlier, they fallen to a record low of 22 sen.
There was more bad news for LCL yesterday as Bursa Securities publicly reprimanded it for not submitting last year's annual audited accounts on time.
An analyst from a local brokerge said LCL's way out of this financial mess is to get the commitment of banks to lend it more money so that it can undertake new projects that will enable it to pay off debts.
LCL plans to continue operating in Dubai, focusing mainly on debt collection.
from:btimes.com.my/Current_News/BTIMES/articles/loww/Article/