Do You wanna known about Local and Global Stock Market Outlook for 2010?
.
Should You Buy Gold Now till we grow old?
.
Buy Stocks or say Good-Bye?
.
When to Leverage Exchange Traded Fund(ETF) via Employees Provident Fund (EPF)?

Get Detail Insight on:
The global financial and economic outlook

Market strategies

Stock recommendations

Commodity and currency trends

Leveraged products

How to make ETF (Exchange-traded funds) part of your portfolio

Tools to help make you more investment-savvy
There have been recent economic "recoveries" globally, but are they sustainable?
And if the global financial crisis of '07/'08 is behind us, what should your investment strategy be?
Should you continue buying stock or take profit at market highs and temporarily avoid equities?
Should you buy gold fearing inflation, or is deflation the real threat?
Should you invest in ETFs with the new EPF Investment Scheme or let professionals handle your retirement money?
All these and more will be addressed and discussed at Maybank Investment Bank Berhad–Bursa Market Chat 2009 Roadshow.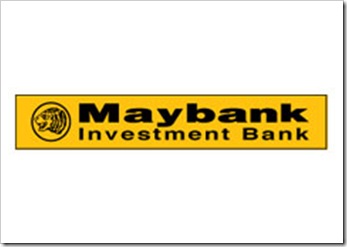 As part of the Bursa Malaysia initiative to keep investors informed of the financial markets, Maybank Investment Bank Berhad has assembled a panel of leading industry experts to help you with these crucial questions.
Maybank Investment Bank Berhad Research has won many prestigious awards including Best Research House, Best Economist, Best Plantation Analyst and Best Consumer Analyst prizes for The Edge 2008 Awards.
With this commitment to research excellence and integrity, you can work towards Financial Freedom and make cutting edge investment decisions.
Bursa Market Chat Programme
Venue

Date & Time

Program

The Puteri Pacific, Johor Bahru
24 Oct 2009
8.30 am-12.30pm
(Saturday)
Arrival & Registration
Welcome Speech
Bursa Welcome Address & Talk
Roundtable Discussion
Coffee Break
Forum Wrap-Up & Closing
Refreshment
END
Northam All Suites, Penang
31 Oct 2009
8.30 am-12.30pm
(Saturday)
Tower Regency, Ipoh
18 Nov 2009
5.30 pm-9.40pm
(Wednesday)
Securities Commission, Klang Valley
9 Jan 2010
8.30 am-12.30pm
(Saturday)
Le Meridien Hotel, Kota Kinabalu
22 Jan 2010
5.30 pm-9.30pm
(Friday)
Arrival of Guests
Welcome Speech
Bursa Welcome Address & Talk
Guest Speakers
Coffee Break
END
Tanahmas Hotel, Sibu
23 Jan 2010
5.30 pm-9.30pm
(Saturday)
Perks
All participants of the Market Chat 2009 will qualify for the following:
CD containing Maybank Investment Bank Berhad Top-rated research report including audio, video and PDF reports,
Corporate Information, Relevant Forms and User Information
Market Insight Newsletter (online)
Access to NextVIEW Financial Portal, Investors Education Workshop Voucher (worth RM50),
ATIC KL 2010 entry ticket (worth RM28)
Extra Perks
For participants who open a trading account with Maybank Investment Bank Berhad on the Market Chat event day, they will get an additional 1 month exclusive trial access for NextVIEW Financial Terminal (worth RM342 per month per ID) and Recognia Stock Screener (worth RM380 per month per ID)
Speaker, Johor Bahru, Penang & Ipoh
Jimmy Loke is the key founder of OSK188 and also started the very successful 1st online financial trading portal in Malaysia, JetFM. Jimmy's experience and good grasp of the financial industry sees him providing practical and sound proven trading methodology in helping investors to trade smartly. He graduated from Queen's University of Belfast with majors in Computer Science & Business Studies. Jimmy will be speaking in Johor Bahru, Penang & Ipoh
Speaker, Johor Bahru
Rajiv Vijendran, Director, Head of Equity Capital Markets, Maybank IB has over 18 years experience in strategic financial advisory services, equity sales and equity capital markets. He was in Arthur Andersen, London, before joining RHB Group, KL where he undertook numerous roles including Head of Business Development and Private Client Sales, and Executive Director at RHB Securities for 4 years. He joined Maybank IB since 2006 as Head of Institutional Sales where he was involved in a number of landmark Malaysian IPOs, including YTL Power, MAXIS, PLUS Expressways, ASTRO and Air Asia. He is a Chartered Accountant with ICAEW and holds a Bachelor of Economics Degree from Macquarie University, Australia.Rajiv Vijendran will be speaking in Johor Bahru
Speaker, Penang & Ipoh
Gerald Ambrose is the Head of Malaysian Operations running the KL Office of Aberdeen Asset Management. Gerald joined Aberdeen in 2005 after the Malaysian government selected Aberdeen to be the first wholly-owned fund manager in the country under the Special Scheme inaugurated that year. Previously, Gerald worked for Kim Eng Securities as Institutional Sales Director. Prior to that, Gerald worked for HSBC James Capel as a Malaysian Specialist. Gerald Ambrose graduated with a MA (Hons) in Land Economy from Pembroke College, Cambridge University. Gerald will be speaking in Penang & Ipoh
Speaker, Penang
Teoh Cheng Guan, Portfolio Manager, Equity, Mayban Investment Management Sdn Bhd, graduated from Monash University, Melbourne, Australia with Bachelor of Economics (Accounting) and Bachelor of Civil Engineering. After that, he served as an Auditor and Financial Consultant in Arthur Andersen & Co and in Morgan Grenfell Asia Holdings Ltd. as an Investment Banker. He was seconded to K&N Kenanga to do investment research in 1992. Whilst there, he briefly switched to investment dealing in 1994 and then returned to investment research in 1997. Prior to joining Mayban Investment Management Sdn Bhd in 2009, he had had more than 15 years of experience in the equity investment research industry.  Cheng Guan will be speaking in Penang
Speaker, Ipoh
Abd Kadir Sahlan has been the CEO and Director of Mayban Investment Management Sdn Bhd since August 2007. He was the Head of Portfolio Management at MaybanLife Assurance Berhad (MaybanLife) where he actively managed all asset classes i.e. fixed income, equity, cash and structured products for in-house funds of about RM16 billion. Before joining Maybank Group, he was Head of Fixed Income and Structured Products at RHB Asset Management Sdn Bhd. He graduated from the University of Cambridge with a Bachelor of Arts degree in Computer Science.  Kadir will be speaking in Ipoh
Moderator for Johor Bahru, Ipoh, Penang and speaker in Kota Kinabalu & Sibu
Lee Cheng Hooi is one of Malaysia's prominent technical analysts. He is currently the Head of Retail Research at Maybank Investment Bank Berhad. He holds a Master of Science Degree in Statistics from London School of Economics, England in 1985. Having studied technical analysis with the foremost experts like Jeanne Long (Financial Astrology), Max Wenk (Elliott Wave), Russell Sands (Turtle System) and Curtis Arnold (Pattern Probability Strategy) since 1989, he was The Edge's first The Right Timing columnist from 1995-1999. Cheng Hooi will be the moderator for Johor Bahru, Ipoh, Penang and speaker in Kota Kinabalu & Sibu
.
Stock Watch episode 13, 30 August 2009 – round table interview part 1 of 4
.
.
Speaker, Klang Valley
Suhaimi Ilias, Chief Economist, Maybank IB, started his career at the Economics Department of Bank Negara Malaysia in August 1993. He joined Maybank Investment Bank in March 2007. To date, his experience in Economic Research spans 15 years in that line. He holds a Bachelor of Arts (Hons), Economics and a Master of Arts (Hons) in Economics from Cambridge University. In 2008, Suhaimi was voted the best local economist in the Edge Brokers Poll and came in third in Asiamoney's Broker's Poll on local brokers for Malaysia macroeconomic research. Suhaimi Illias will be speaking in Klang Valley
.
Stock Watch episode 13, 30 August 2009 – round table interview part 2 of 4
.
.
| | |
| --- | --- |
| | Paul Smith is the CEO of Asia Alternative Asset Partners Limited (Triple A Partners), a business support services provider to asset management business in Asia. From 1996-2006, Paul was Global Head of HSBC PLC Alternative Fund Administration (previously known as Bank of Bermuda Ltd) and prior to that, he was Managing Director for the Ermitage Group. Paul was a member of Hong Kong Securities and Futures Commission Committees on Unit Trusts and Real Estate Funds and serves on the Hong Kong council of the Alternative Investment Management Association. He is a Chartered Accountant, Chartered Financial Analyst and holds a degree from Oxford University, England. Paul Smith will be speaking in Klang Valley |
.
Stock Watch episode 13, 30 August 2009 – round table interview part 3 of 4
.
.
| | |
| --- | --- |
| | Mohammed Rashdan Mohd Yusof is the CEO and Director of Maybank IB. Before that, he was the co-founder and Managing Director of BinaFikir Sdn Bhd, and accumulated over 10 years of experience in audit and business advisory services in PriceWaterhouseCoopers in London and KL. Having over 16 years of related experience, Rashdan is now a specialist in financial services, derivatives and structured finance. He holds a Double First Class Honours Degree in Economics from University of Cambridge. He is a Chartered Accountant with ICAEW, an Associate Member of the Association of Corporate Treasurers of UK. Rashdan will be speaking in Klang Valley |
.
Stock Watch episode 13, 30 August 2009 – round table interview part 4 of 4
.
.
| | |
| --- | --- |
| | Robert Howe has been a fund manager since 1983 and is now the founder and CEO of the Geomatrix Group. He was Chairman and Chief Investment Officer for AIG Global Investment Corp (Japan) where he won a Morningstar #1 Japan Award in 2004. He was Senior Portfolio Manager for Rowe Price-Fleming in Tokyo and Hong Kong for a decade and had won a Lipper Plaque for #1 Japan Fund in 1992. He was an Economist at the World Bank and Data Resources. Howe holds an MBA in Finance from Harvard, and a BA in Economics from Yale. He was a founding board member of the Chartered Financial Analysts Society in Japan, and is currently active in CFA Hawaii and CFA Hong Kong. Robert will be speaking in Klang Valley |
Speaker, Kota Kinabalu & Sibu
Richard Kang is the CEO of Chart Trading Solutions Sdn Bhd. He is an experienced stock and futures trader specializing in technical analysis for more than 10 years. He has conducted numerous technical analysis workshops for private and professional investors/traders and brokers in Malaysia, Singapore, Vietnam, Thailand, China and Hong Kong. Richard is a trilingual speaker with the ability to conduct training courses in Bahasa Malaysia, Mandarin and English. Richard was also invited to speak in Asia Traders and Investors Convention (ATIC) in China, Thailand, Malaysia, Singapore, and Vietnam. Richard will be speaking in Kota Kinabalu & Sibu
Moderator for Klang Valley
Mark Laudi is the CEO of Hong Bao Media, a Singapore-based company which produces content for websites, and provides media and presentation training Master Classes. He is an award-winning journalist and broadcaster, well-known to radio and TV audiences in the Asia Pacific. During his 7-year career at CNBC Asia Pacific, he held almost every position in the newsroom, including Producer and Australia Editor, and in front of the camera as Stock Reporter, Anchor and Field Reporter. At the age of 28, Mark launched CNBC Australia in Sydney as Bureau Chief. Mark will be the moderator for Klang Valley
You are cordially invited to the sessions
Please RSVP your attendance
Sign up for this important stock market seminar now!
You may register by contacting your the Maybank Group representatives, as listed below:
Location,
Maybank Representative,
Telephone Number
Johore Bahru
Nor Azah Arif
07-3381139
Shrifah Latifah Syed Faud
Penang
Eileen Lee Mei Lin
04-2260608 /  04 2255470
Shaharudeen Omar
04-8298686
Ipoh
Ooi Yoke Cheng
05-2453400
Kuala Lumpur
Kim Gee Chong
03-22846584
Hazel Chan Wai Fong
Jennifer Chee Chiew
03-22841707
Kota Kinabalu
Yun
088-219196 / 948
Sibu
Chieng Lee Choo
084-345194 / 187
Seats are limited and will be allocated on a first come, first served basis!
** KL Seats event registration is closed due to full capacity.
Maybank IB – Bursa Malaysia Market Chat Receives Good Turn Up
JOHOR BAHARU, Oct 24 (Bernama) — One hundred participants took part in The Market Chat Roadshow organised by Maybank Investment Bank (Maybank IB) Bhd, in collaboration with Bursa Malaysia.
The participants were given valuable insights into the current volatile financial market and investment opportunities following the tabling of Budget 2010 by Prime Minister Datuk Seri Najib Tun Razak on Friday.
The Market Chat educated the public on making the best investment decisions to attain consistent returns.
The talk was moderated by Head of Retail Research Lee Cheng Hooi at Maybank IB while the panelists were Maybank IB Director and Head of Equity Capital Markets Rajiv Vijendran and financial blogger Jimmy Loke. – BERNAMA
from:bernama.com/bernama/v5/newsindex.php?id=449373