With the Current Economy Uncertainty, Sell off in global Stock Markets and growing Fears of Recession., Everyone are looking for another source of Income. One of the popular avenue is INTERNET.
Can You Really Make Money from Internet? Bull Shit?
I Do NOT believe it at the first place until I make my first US$100 from Google AdSense in 16 DAYS using one niche Blog! A big achievement for me as a newbie.

Google AdSense is a pay-per-click and pay-per-impression advertising – meaning you get paid for valid clicks on the ads on your site. AdSense Site Owners are paid a percentage of the ad revenues earned by Google from clicks and impressions on that publisher's sites. The exact percentage has not been disclosed. Payments are made on a monthly basis by cheque or by electronic money transfer.
I started my my Internet money making venture beginning of this year after DIY my own site www.KLTimesSquare.com. It was very plain and done using Microsoft Word. My friends comments the web site is not "professional" design. Anyway, I've develop more "professional" looking web site at www.TimesSquare-KL.com. I still learning to improve my web site to look even better.
How Did I make it?
By choosing a niche blog in Entertainment which is build on 11 October 2008.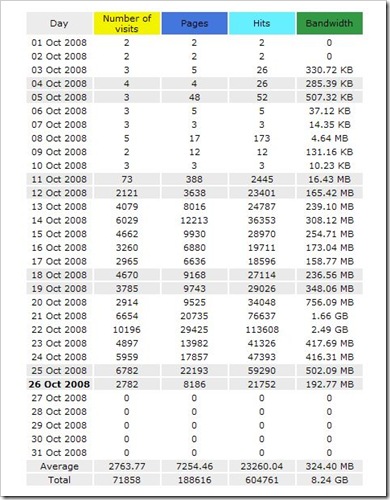 My learning experience is You need to Promote your site to get Traffic. No traffic means NO Income. Like in conventional business You may have the Best product in the World but if No Marketing, Nobody will have a chance to Buy from You!
High Traffic = Potential High Income
My Capital Outlay is about US$40 which is spend on an domain name, web hosting and some tools. Everyday need to spend about 1-2 hours to update and  promote my niche blog.
Please do Not ask me more what have I have reveal here as a Internet Marketers you are NOT suppose to reveal your niche(blog) to other. Hope everyone understand on this.
I am not trying to show off or brag as I know many other Internet Marketers earns more than US$1,000 everyday. The reason I put this here is mainly because  to Motivate and Encourage other NOT to GIVE UP on your quest in Making Money in Internet especially to newbie. It's much Less Risky compare to FOREX, Stock Market, Stock Options etc. There is saying High Risk High Gain. How True!
I Choose Internet!
YES…YOU Can Make Money in the Internet..  It's POSSIBLE!  Not Bull Shit!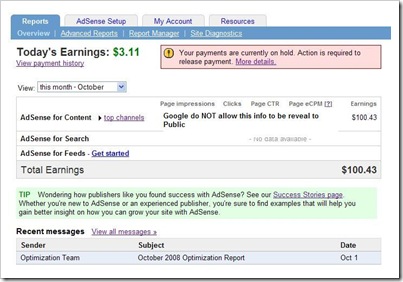 Everyday I still learning and explore to improve my Internet earning. So be prepare to have many late night sleep 🙂 if YOU choose this Path. My plan next is to explorer Affiliate Marketing programs and may even sell off this niche blog in the future if my time do not permit.
So I'm waiting for my First Adsense cheque in my mailbox and will post a snap shoot photo in my blog here also.
Success requires training and discipline and hard work. But if you're not frightened by these things, the opportunities are just as great today as they ever were.-David Rockefeller