My Second Google Adsense Income is $211.72!
For the first time, I am using "Western Union Quick Cash" withdrawal option.
The Withdrawal step is very simple.
Just print out "Statement of Earnings" under "Payment issued" on your Google Adsense account.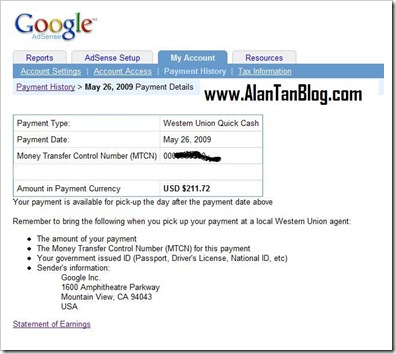 Western Union is a World leader in money fund  transfer and payment services. It is a trusted name that helps both private and corporate clients send and receive money quickly, reliably and Hassle-free.
Western Union provides money transfer services facilities through more than 320,0001 Authorized Service Provider locations in over 200 countries and territories worldwide.
The Western Union service is available through CIMB Bank, RHB Bank, selected Pos Malaysia offices, Bank Rakyat, Bank Simpanan Nasional(BSN), selected United Overseas Bank(UOB), AgroBank3, Public Bank, Prabhu Remit, Lotus Group, Ageless Wealth4, NS Cash Point, Technology Marketing Link and Remit Money International to bring you a fast, convenient and reliable service.
I choose CIMB Bank as this is the nearest bank to my work place.
Just filled up a Remittance form and pass my Identification card.
That all. 😀
In less than five minutes, I get a Cash of RM732.37 (USD$211.73)! 😀
This is surprising very fast compare to Check!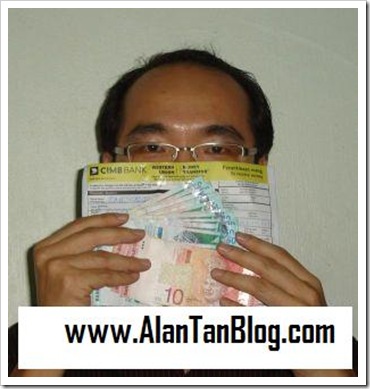 Previously, I use Check and it take about 2 month to get the Cash! 
Found out more at My First Google Adsense Cheque of $211.76! Weeeeee!!!
The disadvantage of withdrawal using Check:
Very Slow as it take about 2 month to get the Cash! 
There some deduction on Bank Charges and processing
The Check must be Bank-in your Home Branch Bank
Home Branch Bank mean if you open the Bank Account at Penang and now you work or study in Kuala Lumpur, you got to go back to your Penang bank branch just to bank-in the check!
Are we still living in Stone Age?
Unbelievable!
Off course, the advantage of getting Check is you can Touch, Smell and Show Off to your Children and Grand Children etc 😀
My advise is use Check for your First Google Payment and subsequently use "Western Union Quick Cash" then 😀
If you have been Online and NOT making Money out of It then YOU are MISSING a lot of Money Making Opportunity!
As a first step, just sign up for a Adsense account and start to Make Money.
Blogging is a Simple and Easy to make way to make Money via Adsense! :D
The approval of your Adsense account takes from about one day to two weeks!
So what are YOU waiting for? 
Making Money Online is NOT Easy BUT Not Impossible! – Alan Tan