There are many ways to make money online.
One of them is promoting services like Online Phone Card Services, Telephone Services, Web Hosting, Domain etc.
This affiliate network involved  is called Commission Junction(CJ).
You must apply to the network using a blog.
Once your account have been approved, you'll get a login information.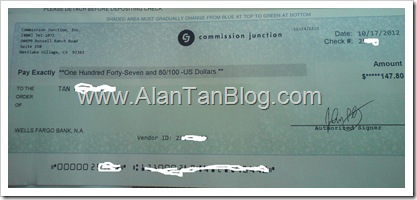 You still can't promote any products or services yet. This is because most of the offer, need to get approval from the individual advertiser.
For example, if you wish to promote ZALORA's product, you need to "Apply to Program". The advertiser approves publishers(you) manually. Your application status will be set to "Pending Application" and the advertiser will contact you if approved.
ZALORA is Asia's fastest-growing online retailer featuring the region's largest range of products and brands. 
Not all the application will be approved. Therefore, you may contact the advertiser should they rejected you.
One of the tip when promoting CJ's offer

Some of the advertiser run their own affiliate program and at CJ. Always check the commission payout for the same offer. It can be different a lot. Therefore, only promote the highest paid commission!
My first check amount from CJ is not a lot but it's a good start!
Always remember, blog is the first thing you need to master in order to make money online.
Do master it well!
If you are not sure how to start a blog, you may grab my blogging blog called "Make Money Online By Blogging".
Read more about  Make Money Online By Blogging by Alan Tan