The current U.S. economy is headed for its Deepest and Longest Recession since World War II as mounting job losses take their toll on Consumer Confidence, Investment and Spending.
Economists are no longer talking about a U.S. recession but a Deep Recession after most of the statistical figures showed business sentiment continued to plummet in early February 2009.
"There seems to be a sense of a very deep-seated collapse in the economy," said Michael Englund, chief economist at Action Economics.
What happens when the US Dollars collapses? United States have about 13+ trillion dollar consumer debt and  literally making trillions of dollars come out of nowhere. Ask anyone they will tell you that Common sense would indicate that the dollar's going to collapse to nothing.
What life's going to be like if this happen?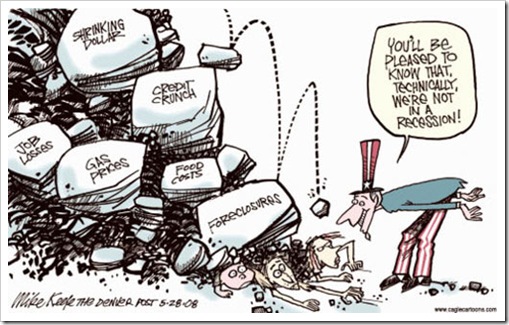 At the same time, A lot of Companies Slashing Prices Like Never Before
From Clothing to Cars!
Do Expected to have more news on Job-loss, Housing, Banking Collapse and meltdown, Energy Crises Converge to Slow Growth and bankruptcy.
It is not uncommon to hear More than one Wall Street firm or investment bank has written of tens of billions of dollars in uncollectable debt today.
In 2009 were going to see the worst economic collapse ever, the Greatest Depression, says Gerald Celente, U.S. trend forecaster. He believes its going to be very violent in the U.S., including there being a tax revolt.
Let Listen to Gerald Celente's view on it. He's a world respected trends research analyst and knows what he's talking about in my opinion.
Do you think the US economy will break?
When United States sneeze, what countries will get the Worst Flu?
Is any there any country that immune from this?
How long does this Collapse will End?
Are worried about YOUR's future and the world's future?
You are Welcome to comments  🙂