Going To Oversea Soon?
.
Is There A Need To Buy Travel Insurance When Purchasing the Air Tickets?
.
Who Will Help To Arrange And Pay For A Medical Evacuation?
.
Travel coverage is a  must for every travelers because no matter how well you plan your holiday trip, unexpected events like accidents, delayed flights, cancelled your trip due to covered reasons such as accident and hospitalization, lost of travel documents and emergency medical treatment, do happen.
While  abroad, you need make sure that you able to get immediate access to 24-hour worldwide assistance in case of an emergency situation happen.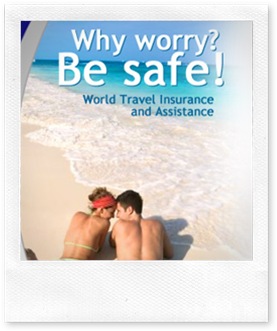 You can only enjoy this if you purchased a Travel Insurance  Policy.
The cost of the Travel Insurance depend on which is the visited country and number of days abroad.
In the YVONNE YUE's case below, it show how  important  to have  a  Travel Insurance  Policy.
The cost of medical evacuation can be the highest cost as it involve cost of chartering a special flight with full medical facilities. This bill alone can easily cost more than RM20,000.00!
Therefore never ever neglecting of buying travel insurance when traveling overseas.
It is always better  to buy your travel insurance as soon as you have purchased your  flight tickets  or book your holiday package, in order to enjoy maximum benefit and protection.
This is because it also cover event like Overbooking, Death/Illnesses of Immediate family member that renders one unable to travel etc.
Please remember to retain all boarding passes, E Tickets, any Loss Baggage receipt, Medical Bills etc for claiming purposes.
Insurance is like a Parachute… if it isn't there the first time, chances are you won't be needing it again!
Life Insurance is like a parachute. You buy it when you don't need it, because when you need it, you can't get it !
Read more How to Get The Best Travel Insurance For Your Needs | Matta Fair and  What is Travel Insurance?
.
Travel insurance saved my mum
.
RECENTLY, on a trip to China with my 81 year-old mother and some friends, we met with an accident.
My mom and I were knocked down by a car. My mom suffered head injuries when she fell and hit her head on the pavement. We took her to the hospital where it was determined that she was bleeding in her brain and would be in no condition to travel.
Beside difficulties in communicating with the locals as their dialect was different from the Mandarin that we used in Malaysia, I also found out that it was going to cost a lot of money to treat my mother.
Furthermore, the Chinese hospital would only accept yuan. Since I did not have much yuan with me, I was quite desperate.
Then I remembered the travel insurance I bought for the trip and called the emergency number given.
After confirming everything was in order, the customer service staff arranged for doctors from Malaysia and Beijing to liaise with the attending doctors at the hospital and to advise and keep me informed.
I was asked by the company's doctors whether I wanted to bring my mother home to Malaysia. I told them that I did not see how it was possible due to my mother's condition.
They assured me that they would make the arrangement and a plane would be sent over to pick us up.
The plane duly arrived as promised. I was surprised that the plane had ICU facilities with a doctor and nurse on board.
On arrival in Kuala Lumpur, there was an ambulance waiting to take us to the hospital requested by me earlier.
I was really amazed that for the small premium that I paid, we were given such VVIP treatment.
As a businesswoman, I was impressed by the professional manner of their staff in looking after us. With more Malaysians now travelling, they should not neglect buying travel insurance from the right company, especially when traveling overseas.
They should also know what insurance coverage they are getting.
I would like to thank all the staff who looked after us in China and Malaysia, especially Dr Alan, Dr Teoh, Dr Grey, Ms Sharmini and Ms Lisa.
YVONNE YUE,
Kuala Lumpur.
fr:thestar.com.my/news/story.asp?file=/2010/9/29/focus/7117941&sec=focus